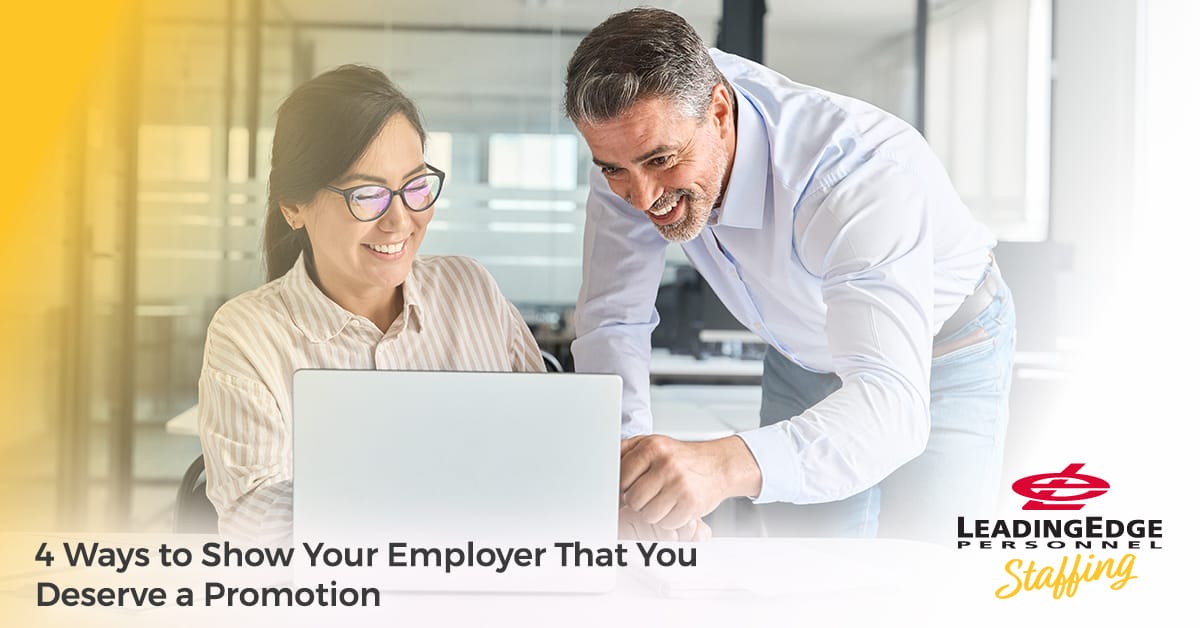 13 Sep

4 Ways to Show Your Employer That You Deserve a Promotion

You've done the hard work, hit every benchmark and goal set for you. You've taken on more responsibility and have come into your own as a leader at work. Maybe you've even started to think about making some changes in your career to continue your development. So why haven't you been approached about a promotion?


Maybe your manager is waiting for you to take the first step. If you feel like the time has come to have a new title (and maybe a raise) to your job, here's how to demonstrate you've earned that bump. 
Take ownership of projects, from initiation to completion.

If you want to be a leader and prove your skills, take the helm of the next project to come along that strikes your interest. If your manager is looking for someone to lead a new initiative, or to be the point person on a task, raise your hand and start tracking everything you do. Wrapping your something, especially if it's bigger than what you'd normally be asked to take on, shows initiative and self-confidence, plus a willingness to be the person a colleague will come to with questions. Be sure to discuss the project with your manager as you're taking over, establishing timelines for targets and staying in close communication as the work continues, keeping them informed of any big wins or small stumbles along the way. Being honest about the entirety of the work will show a reasoned, measured approach that also provides insight into how thorough you can be in your dedication. 
Support your team.

If a coworker is leading an effort and you're part of their team, do your best to be as helpful as possible. Offer to take a bigger portion of tasks or to step up if others need help. Be a creative thinker and problem solver, suggesting new ideas to try if something's not working out the way they'd hoped. Also, be generous with praise! People like to know their hard work is appreciated and getting that confidence boost from a colleague can go a long way. 
Celebrate your wins.

So many people have been raised on opposite sides of the victory coin: There are people who will downplay their victories because they don't want to appear full of themselves, too smug or as overconfident, while others are quick to seek praise for completing tiny tasks a new hire could figure out in a short period of time. If you've accomplished something significant, tell your manager! When you finally nail down that task that's been giving you fits for months, let your team know. Calling a reasonable amount of attention keeps people in the know about how you're growing, trying new things and working hard. If you don't tell them, how will they know? And speaking of that….
Tell your manager you want a promotion.

We humans are not mind readers. (Which is probably for the best, right?) Unfortunately, that also means your supervisor cannot and does not know if a promotion is something you'd like to secure. Be honest about it: Explain why you feel you've earned it and provide specific examples when possible. Show your growth and how much you've learned and tell your manager why you think now is the right time to add to your responsibilities and stature within the company with a new title. It might not happen right away, but you'll find out through the course of that conversation if climbing up a rung on the corporate ladder is something that will be in your future. 
It's important to have career goals, to speak them aloud and to stay focused on them until they've been achieved. If you think this is your time to shine, speak up! 
If you speak with your manager and they turn down or brush off your arguments for a promotion, and you really feel you've earned one, it's time to explore greener pastures. LeadingEdge Personnel can help! Take a look at the jobs we have open and then call our team of expert recruiters. They're ready to help you understand and explore your options and can help you find job opportunities you might never have thought of otherwise, based on your skills and experience. If you're ready to make a change, LeadingEdge is ready to help!