A Human Resource Partner For Direct Hires
LeadingEdge Personnel is your human resource partner for direct hires. Though we are known for the quality of our temporary staffing, we can also serve as an employment agency, providing companies in San Antonio and Austin with fully vetted candidates for many types of jobs.
Direct hire is often a good option. If the open position requires significant in-house training or a person with unique skills, it may be the best possible option.
LeadingEdge As A Staffing Consultant
Fortunately, LeadingEdge Personnel's clients don't need to engage another employment agency for direct hires. The knowledge of your business and your staffing needs that we use when delivering temporary staffing helps us identify the best possible candidates for your direct hires.

Our Risk-Free Service Guarantee
99% satisfaction, client performance survey. If for any reason, within the first two days of an assignment, you are not satisfied with an employee we have sent to you, give us a call and we will send a replacement. We will waive any charges accrued to that point. Simple as that.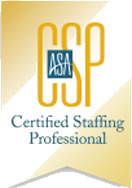 A Hire Level of Service and Commitment
Find out more about LeadingEdge Personnel being recognized as Certified Staffing Professionals by the American Staffing Association.