A Staffing Service That Puts Value in Human Terms
LeadingEdge Personnel has successfully matched the leading San Antonio and Austin employers with the most qualified clerical and office staff for more than 20 years. Our goal is to partner with clients and deliver the top talent needed for success in a competitive business environment.
LeadingEdge Personnel was founded in 1995 by Kelly Hudson and Patty Yarbrough. Kelly brings 27 years of experience in the temporary staffing industry to the partnership, and Patty has worked in personnel and staffing for 23 years, following a successful career in the highly customer-focused hospitality industry.
Meeting the Needs of Employers and Temps Alike
LeadingEdge Personnel is the go-to staffing agency for many top Central Texas employers. We understand that the most critical element to any successful business is the human element. Our clients count on us for consistently reliable temps that are fully vetted and suited to both the job and the client company's culture.
We staff for the best because we attract the best employees. We know where to find them and how to recruit them. Plus, we give them that extra respect and encouragement that highly qualified employees deserve.
Employees leave—temporarily or permanently. Business volume improves. A new project requires additional workforce or the reassignment of existing personnel. In all of these cases, LeadingEdge Personnel is the #1 source for temporary staffing in San Antonio and Austin.

Our Risk-Free Service Guarantee
99% satisfaction, client performance survey. If for any reason, within the first two days of an assignment, you are not satisfied with an employee we have sent to you, give us a call and we will send a replacement. We will waive any charges accrued to that point. Simple as that.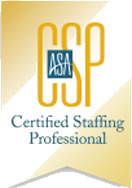 A Hire Level of Service and Commitment
Find out more about LeadingEdge Personnel being recognized as Certified Staffing Professionals by the American Staffing Association.

Rated One Of The Best Places To Work in San Antonio, TX
We earned this award from the San Antonio Business Journal because we understand that great staff members should be properly rewarded.