SPREAD THE WORD-If you are needing a job, you need to go see the staff at Leading Edge! I was very nervous walking in, but everyone was AMAZING. It was the most comfortable environment and the staff

...

makes you feel so welcomed. I cannot thank Lori, Mya and Alyson enough - thank you for helping me and making me feel like I was your only customer. You all ROCK!!!

read more

Awesome experience and very helpful. I was able to attain an amazing opportunity. Thank you Leading Edge and Mrs. Gonzales!!!

From a customer's perspective, these folks do a fantastic job of finding people and ensuring they are a good fit for our business. They call to check on...

Amazing to work with leading edge! I was looking for a place I could work for a short bit, part time. When i went to talk to them for a place to temp, they...

Professional and amazing staff, fun and informational orientation.

Incredible Company!! I would highly recommend!

Everyone at this office is awesome!!! They are so super to work with and behind you one hundred percent. I have worked for them for many years now. At...

Such a great company to work for! LeadingEdge Personnel truly cares about making a difference for the employees who represent them. I can't recommend them...

LeadingEdge Personnel is an amazing place to work at and work for, the staff their is amazing and very genuine. They invest in their employees and always provide opportunity for them. Thank you

...

LeadingEdge for all that you do!

read more

This is fantastic, I just joined, Im hoping I can find a job!!

So far so good. They were fast finding employment. If you have great test scores and come highly qualified you will have no issues finding work. Tattoos now days will always be a issue. Never give

...

up. Just cover up.Staff in San Antonio office were fast and friendly. Great place to start.

read more

I have been with Leading Edge Personnel since April. I am a certified teacher, but I wasn't enjoying my teaching career. I left teaching and decided to find another career. I kept researching

...

staffing agencies and Leading Edge seemed like the best choice. Well, almost 8 months later, I can definitely tell you, it WAS the best choice. I was given my first assignment within a week. It was only for a day but I loved it. My 2nd assignment was even better. I was filling in for a receptionist who was out with an injury. When she came back a little over a month later, I was sad to leave the company but less than 2 months later, I was assigned to another office with the same company. I have been working with this company for 4 months now and I absolutely love my job, my boss, my co-workers. I am thankful for Leading Edge for finding me an awesome place to work.

read more

I discovered Leading Edge at a job fair, and was excited at being able to come speak with them first thing the next morning. Everyone was wonderful from Alyson, the recruiter I spoke with at the job

...

fair to Lori, the woman who interviewed me, but I specifically wanted to mention Crystal, the receptionist at the front desk. She was very welcoming and walked me through every step of the process. I came in when the office was rather busy and she devoted the same care to each individual, which is the core of great customer service. The process itself was rather quick as well. My job fair was Wednesday, the next day I had an interview and orientation, and Friday I had to do some tests, which I greatly appreciated being able to do from the comfort of my own home. By Monday, Lori was already emailing me positions that were available. That Thursday, I received a call about a job and they set up the interview for later in the afternoon. The interview went well, so much so in fact that about an hour after I arrived home I received another call, this time to accept the job offer. Overall, I believe that Leading Edge is an exceptional place to work and I would highly recommend to anyone seeking office/administrative work, especially because I was having difficulty finding something through my own job search means..

read more

The staff at the San Antonio office are AMAZING! I worked directly with Lori Gonzales throughout my short time there and she went above and beyond to help me get into a permanent dream job. I can't

...

thank her and her staff enough for making me feel welcomed and like part of a family. I will definitely spread the word about this fantastic company. Thank you to all of the LeadingEdge Team and especially to Rock star Lori!!

read more

One of the greatest Temp-Hire Companies to work for. their customer service, payroll everyone overall is great, answers your questions promptly and offer competitive pay for a Staffing Agency. Very

...

Great full with the overall relation and work i do. Also, very efficient on finding you a job!

read more

Great culture and atmosphere within the company. I had the pleasure to work with Lori. She saw the value in who I was professionally and worked to find me my next career move! I have used other

...

agencies in the past and Leading Edge Personnel is by far the best!

read more

I cannot describe the passion of this staff to put people to work! The office had a great atmosphere. Even the orientation video was entertaining. Mrs. Bolling and the receptionist were so

...

professional, helpful and all-around wonderful! What a welcoming staff. I am excited to go to work for them!

read more

LeadingEdge Personnel is by far the best staffing agency I have had the pleasure of working with. I have used other agencies in the past, but I have never had such quick responses or placements. The

...

staff is amazing. I have already recommended this company to a few of my friends.

read more

I honestly could not be happier with LeadingEdge! The staff is Amazing and always willing to help even going out of their way to assist in any way possible and the punctuality speaks for its self my

...

emails are always answered within the matter of a few minutes or hours. Compared to other Staffing agencies I have been with this is by far the best. Sherry in the payroll department is especially amazing- she is always so quick to get back to me with any questions I may have and so patient. Thank You ALL for your hard work!

read more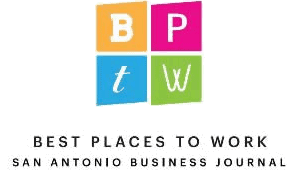 LeadingEdge RANKED ONE OF THE BEST PLACES TO WORK!
We are happy to announce that The San Antonio Business Journal has named us one of the top workplaces in San Antonio.