Busy Companies Use Temp-to-Hire to Audition Top Performers
Temp-to-hire allows employers the opportunity to see exactly what the prospective employee can do in their work environment, the level of skills they display, and how they fit in with other staff members.
The temporary employee, similarly, has a unique opportunity to learn about the company first-hand. A person who accepts a position with a company that he or she has been a temporary employee for is more likely to be happy and remain with the company longer.
Take the Guess Work Out of the Hiring Process
If you are interested in using our temp-to-hire services, let the staffing Coordinator know when you make your staffing request. LeadingEdge Personnel will send you a candidate that is not only highly qualified, but also open to a full-time, long-term position. Hiring a new person is always an investment. Temp-to-hire helps you make a wise investment.

Our Risk-Free Service Guarantee
99% satisfaction, client performance survey. If for any reason, within the first two days of an assignment, you are not satisfied with an employee we have sent to you, give us a call and we will send a replacement. We will waive any charges accrued to that point. Simple as that.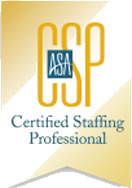 A Hire Level of Service and Commitment
Find out more about LeadingEdge Personnel being recognized as Certified Staffing Professionals by the American Staffing Association.