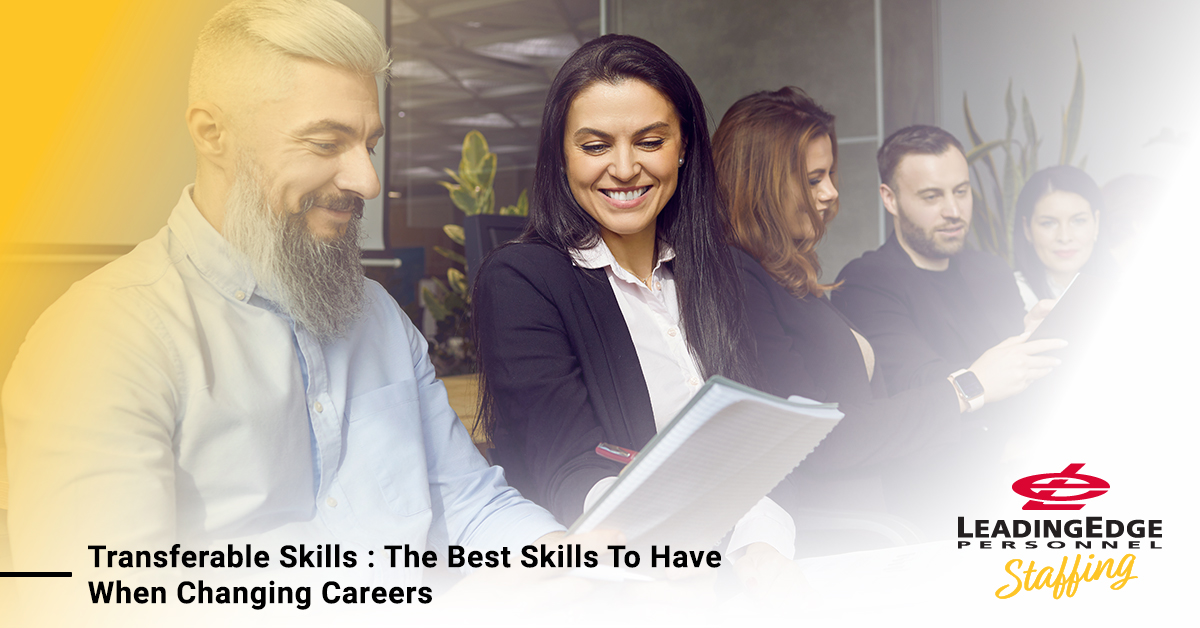 22 Feb

Transferable Skills : The Best Skills To Have When Changing Careers

It's time for a change. Your current job isn't challenging enough or maybe you're just plain bored with it and want something more. But you're worried that you'll have a hard time finding a new position if you don't already have the right skills. 

The good news is, you have some highly in-demand skills that will make you an attractive candidate to companies, you just might not realize it. 

Soft skills are those that can apply to a number of different positions and industries. Unless hard skills, which are job-specific, soft skills are highly transferable and can make you an outstanding employee. 

Here are the best soft skills that can make employers clamor for your attention. 
Project management.

When you're first given a task, you like to set up a checklist of the steps needed to complete it. You like writing a to-do list at the start of your day to make sure you're addressing the most important tasks first, setting and adjusting priorities as needed. These are project management skills, in addition to keeping an eye on how the other pieces of the project are faring and whether everyone is staying on task in order to meet deadlines. If something happens and things get sidetracked, you're ready and able to step in and make adjustments to get things going in the right direction. Employers love this! 
Communication.

People don't cringe when they get an email or message from you because they know they'll be getting the information they need clearly, in an easy-to-understand way. They'll know exactly where things stand and what's needed to move to the next step. Communication skills are critically important to keep everyone on the same page, to keep things running smoothly and to make sure everyone knows who's responsible for what. 
Creativity.

 When you run into a wall or a problem with no obvious solutions, you're ready to stand on your head to find a new way forward. There's nothing you can't solve with a little ingenuity and out-of-the-box thinking. A creative mindset and approach means you're not afraid to try something new — if it doesn't work, you're ready to try something else and to learn from what wasn't effective. You're not afraid to break the mold just enough to see if something else might be more efficient or effective. 
Adaptability.

This goes hand-in-hand with creativity. You're not stuck into a single mindset of how things are supposed to go, or what's supposed to happen. You're ready to roll with the proverbial punches and shift priorities at a moment's notice if that's what the team needs. You show that you're eager and ready to do what's asked of you, without fighting or protesting, because you know the team needs you. 
Collaboration.

You know the whole is greater than the sum of its parts. Everyone on your team has something to offer and you're eager to learn from all those you work with as much as you're willing to teach what you know. You enjoy group projects because you know the people you will work with all have something to add and a different vision that will lead to an even better outcome and result for everyone. 
Give yourself some credit: You have a lot to offer a new employer and they'd be lucky to have you! Make sure your resume reflects these skills, abilities and attributes and be ready to talk about them in detail when you land your next interview. 
If you want a little help getting started in the job search, why not go over to the jobs board offered by LeadingEdge Personnel and see what's available. If something catches your eye, give us a call! Our recruiters can help you find a great new job that fits your interests and skills and will gladly put in a good word for you. Contact LeadingEdge today and let's get started!