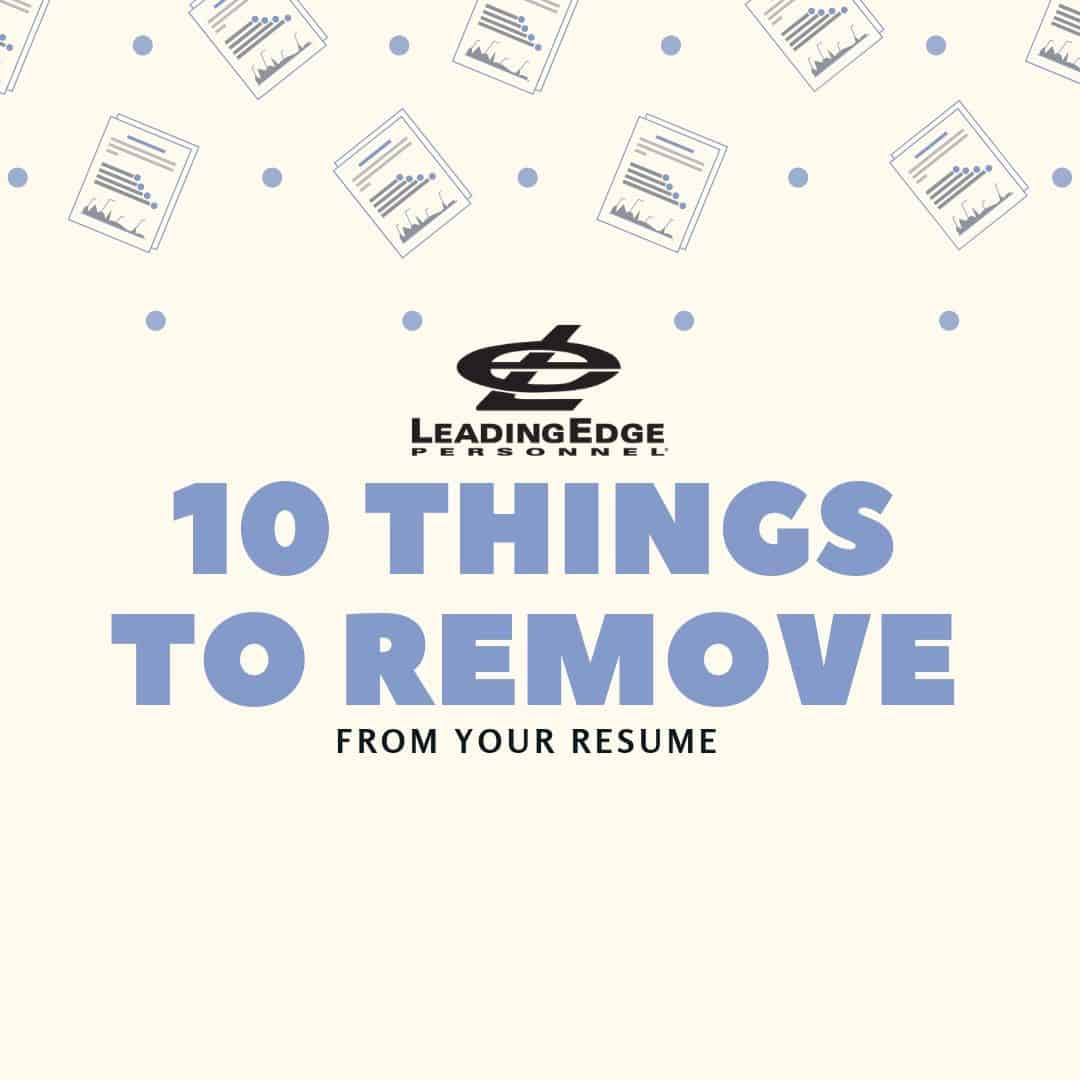 28 May

10 Things to Remove from Your Resume
Top 10 Things to Remove from Your Resume
There's a lot of advice online to help guide what to include on your resume. Just as important as what to include, you should know what to remove from your resume as well! In this post, we'll go over 10 things to remove from your resume today to immediately improve it.
10 Things to Remove from Your Resume

Many of the items on the list below are not only outdated but will inevitably confuse the ATS when it parses your resume (more info here). Here's the list of things to remove from your resume today to enhance readability and improve the overall format.
The List
"Hi, my name is". You don't need to introduce yourself this way. If you'd like to include some sort of executive summary you can do that. This phrase is too colloquial and just not professional enough to lead into your resume.
References available upon request. Every hiring manager will assume that you have references. If your hiring manager needs these references, they're going to ask for them, whether or not you have them ready. Which brings us to our next point: have your references in line. Be certain they're people you can trust, who will give you outstanding reviews and who are well aware that they may receive a call.
Year of Graduation. Including your Education is a great way to showcase another part of your skills and what you bring to the table. However, because no one is bias-proof, we encourage you to remove the year of graduation from your resume. Since implicit biases can work both ways, it's best to just not include years of completion.
Pay History. When you include a pay history, it can confuse the ATS. More than that, including your pay history, can set you up for failure when it comes to negotiations. Save that information, if requested, for when the time is right. More than that, don't offer a pay history if it's not required. Instead, state the range in which you're considering offers and always anchor your lower end to something beneficial.
Supervisor Names. This is very similar to providing references and it has no place in your separate experience section. If the hiring manager needs this information, they'll request it from you. Plus this may allow hiring managers to reference check you through untraditional means. If you don't know if each supervisor would provide a glowing reference, it's a generally bad practice.
Physical Addresses. Rarely does a prospective employer need the physical addresses of previous workplaces. The exception is in the case that your employer is conducting an employment verification and at that time, they will provide you with the documents they'd like you to fill out with this information.


Why You Left. This is information best saved for an interview – if asked. You don't need to provide reasons as to why you left a previous position and some hiring managers won't care regardless.

Persistent Headers. If you have a header with all of your contact information and name, you don't need to duplicate this header on each page. Contact information on the first page is sufficient. In addition, limit the length of your resume to the last 10 years or so of experience, since that's the most relevant to your current skill set. If your resume is longer than 2 pages, we strongly suggest you consider reducing the length.
Photo. Photos are another item that can confuse an ATS. More than that, photos can cause a hiring manager's implicit biases to come into play. If a hiring manager really wants to put a face to a name they can always check our your LinkedIn profile. If you're looking for a job, you should have a professional photo on your profile.
Graphs or Chart of Skills. Again, these charts confuse the ATS. More than that though, we often come across resumes that chart out the skill level of software systems for example. But why would you include software that you rate yourself as a 3 out of 5 on? That's not speaking to your talents! If you are absolutely set on including one of these graphs, do it by years of proficiency. However, we highly advise against using these at all. The one caveat may be for graphic design roles but even at that- these can do your resume a bigger disservice than anything.
The Takeaway
Knowing what to remove from your resume is just as powerful as knowing what to include. By the time a candidate finalizes a resume, it's usually been a tough process. Candidates are inundated by critiques from friends, family, resume writers and influencers.  We hope this list of 10 things to remove from your resume will help you cut through the noise and refine your resume so it the best representation of your skills and experience.
LeadingEdge Personnel strives to be one of the best locally-owned employment staffing agencies in Austin and San Antonio. Looking for more information on resume formatting, applying fast, or focusing your job search? We've got you covered!
Be sure to follow us, we're on:
Instagram @leadingedgepersonnel
Twitter @leading_edge1
Facebook @leadingedgepersonnel
We're also on LinkedIn, Youtube and Pinterest! When you follow us, be sure to say hi- we're social people, we love it when you say hi!