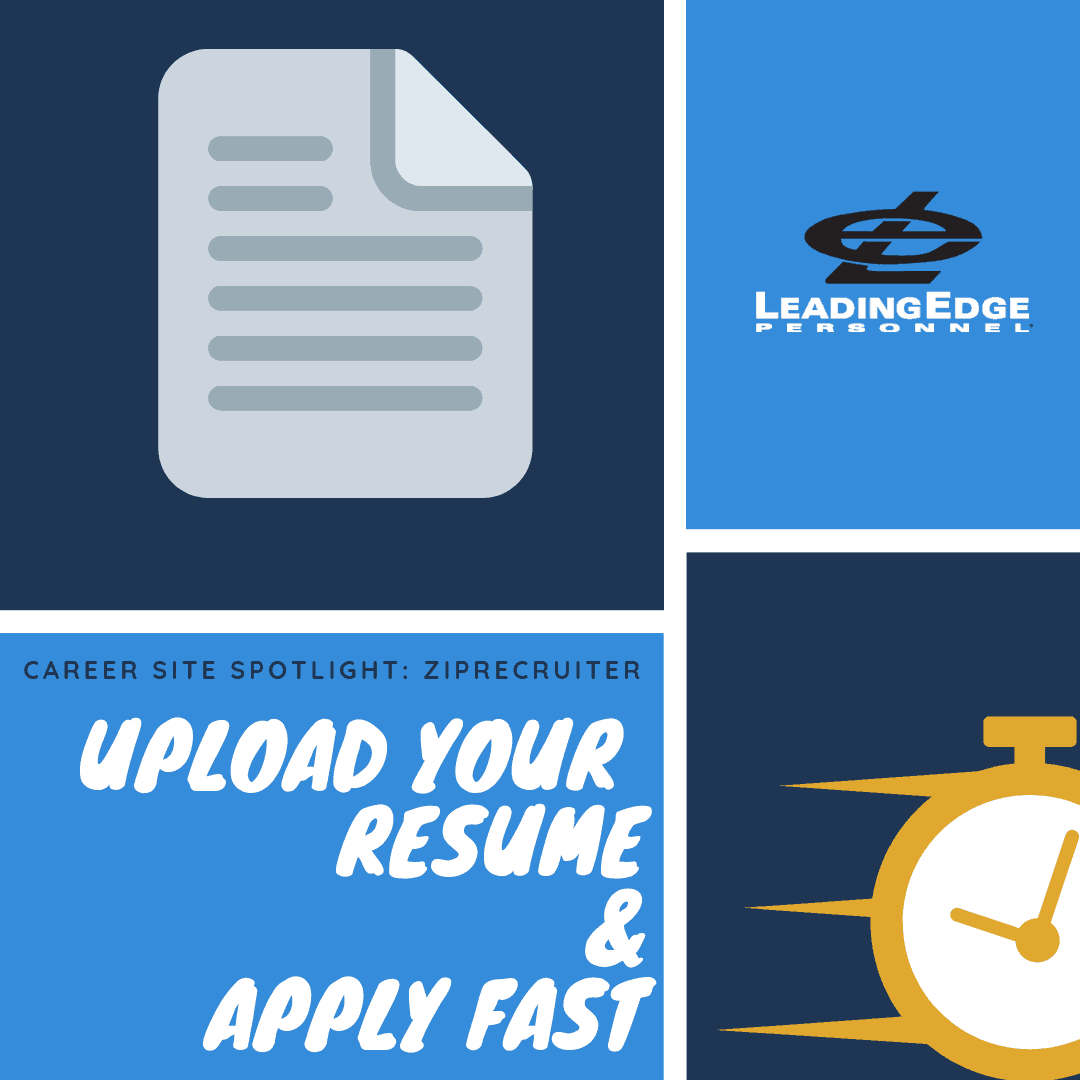 14 Feb

Upload Your Resume & Apply Fast
Apply Fast using ZipRecruiter
Many job seekers use Indeed to apply fast. However, ZipRecruiter is one of the fastest growing job boards, In addition, ZipRecruiter offers a few unique features for candidates when you upload your resume. While most boards require job seekers to actively search and apply, ZipRecruiter uses SmartMatch technology. With SmartMatch, job seekers receive notifications of jobs that may be in line experience.
In short, ZipRecruiter offers a way to help you apply fast. More than just applying fast, the site notifies you if something becomes available that may be a good mutual match.
Profile Settings
The process to create an account with ZipRecruiter is similar to other sites. First, you will upload a resume. Then, the system parses your resume and fills in required fields. Need more information on parsing? Click here! Your uploaded resume will help you apply fast using their 1-Tap Apply method.
Here are a few profile settings you should address:
Add a headline/tagline in your settings. This is a great way to showcase what you're looking for or deliver a high-impact statement about your experience

Add your LinkedIn profile. Not only does adding a LinkedIn profile show that you' take your professional development seriously, but it also gives hiring managers a more holistic view of you as a candidate.

Decide if you're willing to relocate if so change this setting under profile settings
Profile settings specific to your resume:
If your resume has changed or your contact information needs to be updated, update it in the resume and your profile. This will help you avoid conflicting information.

If you are open to hiring managers finding your resume, be sure to turn this feature on under your profile settings. This works similarly to Indeed's resume searches. On that note, we advise caution if you're concerned your employer might find out.

After you upload a resume, you can provide salary requirements in your profile settings too! If you're a bit more flexible on salary, then you may not want to provide this since it is a specific number. However, if you are set on a number, this is important to provide to potential hiring managers.
1-Tap Apply
When you click into a job to 1-Tap Apply, you might see a prompt that says "Am I Qualified?". The qualification questioned are based on employer preferences. This is a great way to apply fast. When you select this button, it will navigate you to answer screener questions. This process uses chatbot or AI technology. Note that this conversation isn't with a hiring manager or authority.
Apply Fast with Text Alerts
ZipRecruiter provides instant notifications of new potential matches! After you upload your resume, you'll need to turn this feature on. In order to use this feature, you'll need to enable it in your account settings. Note that any texts you receive from this number will be from a ZipRecruiter chatbot once more. That means any changes in getting these messages will need to be made in your account.
References
Requesting references through ZipRecruiter is a great way to validate your skills and work ethic without the need for a prospective employer before you even secure an interview. Providing references in addition to your uploaded resume is a great way to stand out.
Takeaway
ZipRecruiter is a great compliment to other job search tools you use. While it is not an all in one solution for every job seeker, it is an important board to use. With the costs of other job boards on the rise, many employers are looking at other places, such as ZipRecruiter to post their jobs.
With the ability to apply fast, receive instant notifications and provide references before meeting a hiring manager, you might just open the right door by using the site. If you're looking for more information on resume formatting, answering tough questions and the like, be sure to subscribe to our newsletter!  LeadingEdge Personnel strives to be the best staffing agency and employer in Austin and San Antonio. To see our current openings, click here!
Follow us, we're on:
Instagram @leadingedgepersonnel
Twitter @leading_edge1
Facebook @leadingedgepersonnel
We're also on LinkedIn, Youtube and Pinterest! When you follow us, be sure to say hi- we're social people, we love it when you say hi!