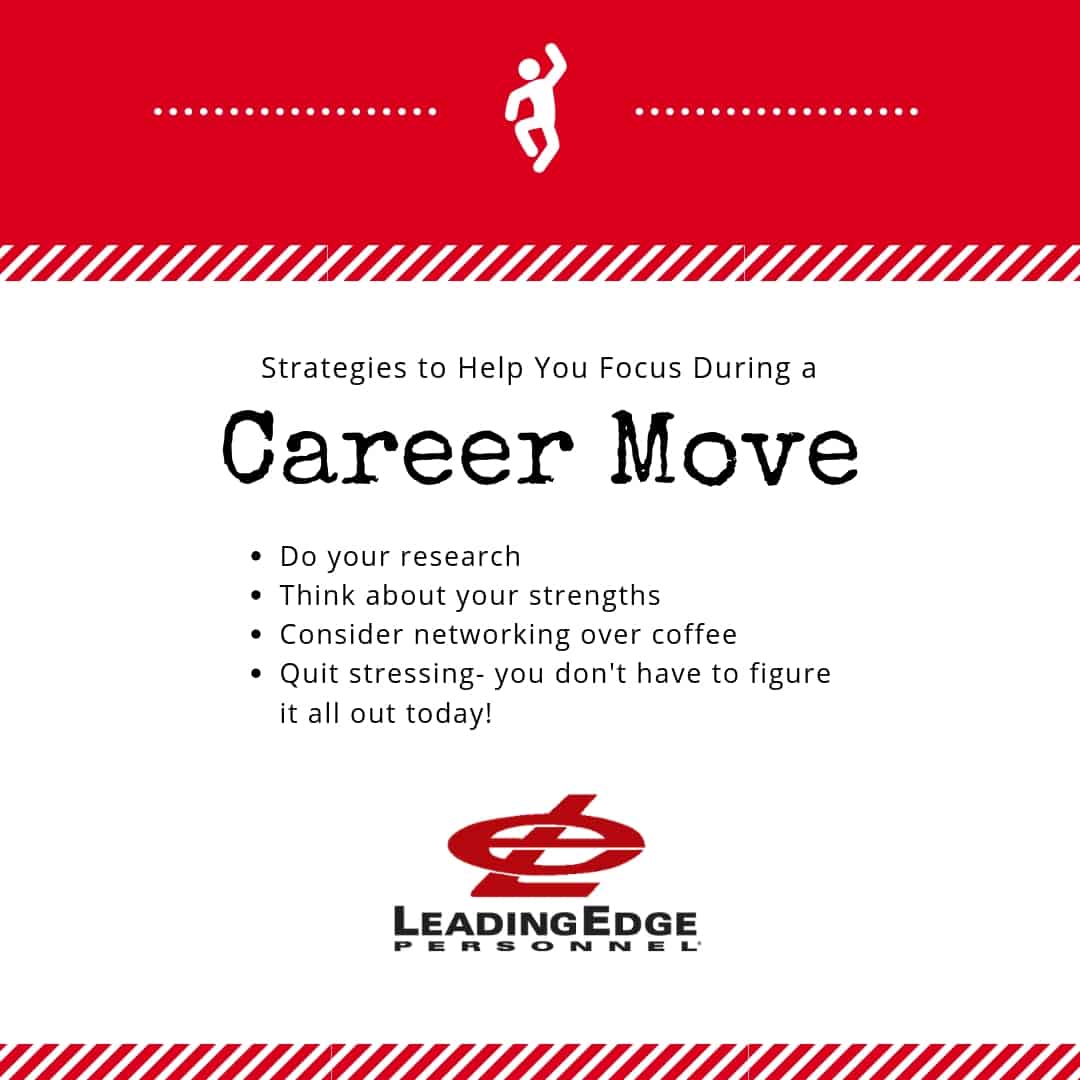 07 May

Job Search: How to Focus
Focusing Your Job Search
One of the hardest things about starting your job search is to figure out what you're looking for in a position. We're not just talking job title here- what do you really want? It's normal to wonder to yourself: What's my next career move? When considering initiating a job search, there are a number of factors to consider. We'll talk you through those factors and if you download our "What's Next" guide, you'll get FREE access not only to this guide but other actionable, helpful printables too!
Factors to Consider When Choosing Your Next Career Move
When you're considering making a change, take some time to figure out what's important to you in your job search. These factors are just a few to consider when ranking the importance of needs in your next role.
Day to Day Responsibilities. Are you excited by your current day to day? Do you find yourself dreading coming to work? That could be a sign it's time for a change in career entirely or perhaps the culture. Explore this during your job search and figure out if it's the job or where you work that's making you feel this way.
Benefits. Does your benefit package incentivize you to stay? Does the company go beyond providing basic medical and offer additional perks? Are other companies in your industry offering better benefits.
Salary. Is your salary the main reason for leaving? Can your company accommodate a higher salary or do you feel that you are misaligned? When you consider salary and benefits, will another company offer a better total reward package?
Lifestyle Change. Are you on call? Do you work for a company with the expectation that you check your e-mail even on your days off? Are you working remote or do you commute for long periods of time?
Growth Opportunities. Do you value growth opportunities or are you in a season of your career where you are looking for a position to stay in for a period of time? A strategic career move can set you up for success for years to come.
Culture. Is your environment toxic? Does it just not align with your world views? Are you engaged and excited to work with the team you're currently working with?
Innovation. Is pushing the envelope important to you? Do you look for technological advances and efficiencies in your tasks? 
I know, this is a lot to consider. If you're overwhelmed, try to reverse engineer your search. First, think about what prompted you to start a career search. Next, use that to drive what companies and opportunities you apply to once you decide what role(s) you're targeting.
What's my Next Career Move?
If you're stuck as far as the field to go into or career to pursue, here are a few strategies to try to help clear up your search:
First, do some research. Take a look at job descriptions and position information on Indeed, Glassdoor and other sites.

Then, t

hink about what you're good at or where your skills best serve an organization.

Next, consider meeting over coffee or the like with people inside of your desired industries to gain better insight.

Quit stressing about figuring it all out today. You don't have to have it all figured out. But do tailor your resume for different fields you may be applying to.
The Takeaway
To conclude, change is hard. Job changes are even harder. It's one of the most impactful decisions and vulnerable times. We hope this article and our guide to making a change can help you navigate a career move. For more advice on navigating Indeed, resume formatting and the like, be sure to subscribe to our newsletter. We aim to be the best employment agency in Austin in San Antonio. Finally, if you're looking to make a change, apply here!
Be sure to follow us, we're on:
Instagram @leadingedgepersonnel
Twitter @leading_edge1
Facebook @leadingedgepersonnel
We're also on LinkedIn, Youtube and Pinterest! When you follow us, be sure to say hi- we're social people, we love it when you say hi!