18 Aug

Four Ways to Make the Most of Your Time With a Professional Temp Agency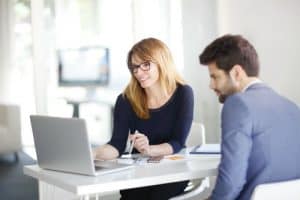 No matter what your reason is for using a temporary employment agency, you need to take your time working with them seriously. A staffing agency could be your key to securing the employment you desire, whether it's part-time, temporary or full-time.
One of the best tips is to treat the employment agency as if they are an employer you want to work for. Besides, the agency is your advocate when talking to employers, so you need to give them plenty of good things to say about you. Here are four of the best ways to make the most of your time when working with a professional temp agency.
Take Your Temp Agency Interview Seriously
Every professional temp agency will require job seekers to go through an interview process with them. This interview is designed to learn more about each other, talk about skills, experiences and job desires. Don't blow off the interview and think it isn't important. The interviewers are noticing everything about you, including the way you dress, your body language and overall attitude, in addition to the things you put on your resume.
Be Honest About Your Short-Term and Long-Term Goals
Don't have any shame in sharing your professional goals with your staffing professional. If you don't want to work in a stressful environment, tell them. You have no idea how many options the agency has at their disposal, so they want to work for you to find the best option. And if you want part-time employment now with the option of moving to full-time later on, they need to know that as well.
Communicate Regularly With Your Staffing Professional
Display your devotion to your staffing agency by contacting them frequently if you haven't heard from them. It's always a good idea to check in with them at least once every week either via email or phone. The best agencies will keep in touch with you regardless, but you also need to show your interest and dedication.
Don't Be Afraid to Ask Questions
Always ask questions about how the process is going, what you need to be doing differently and what possible options are available. Temp agencies try to find the best options for you, so asking meaningful questions could help them determine what exactly you're looking for.
LeadingEdge Personnel is the top temp agency in San Antonio for many different reasons. We want to help you make the most of your time when working with us, and we will keep you engaged throughout the entire process. To learn more about how you can work most effectively with us, be sure to contact us at any time.
For more information about working for a temp agency in San Antonio and tips for making yourself a valuable candidate for a placement position, visit http://www.leadingedgepersonnel.com