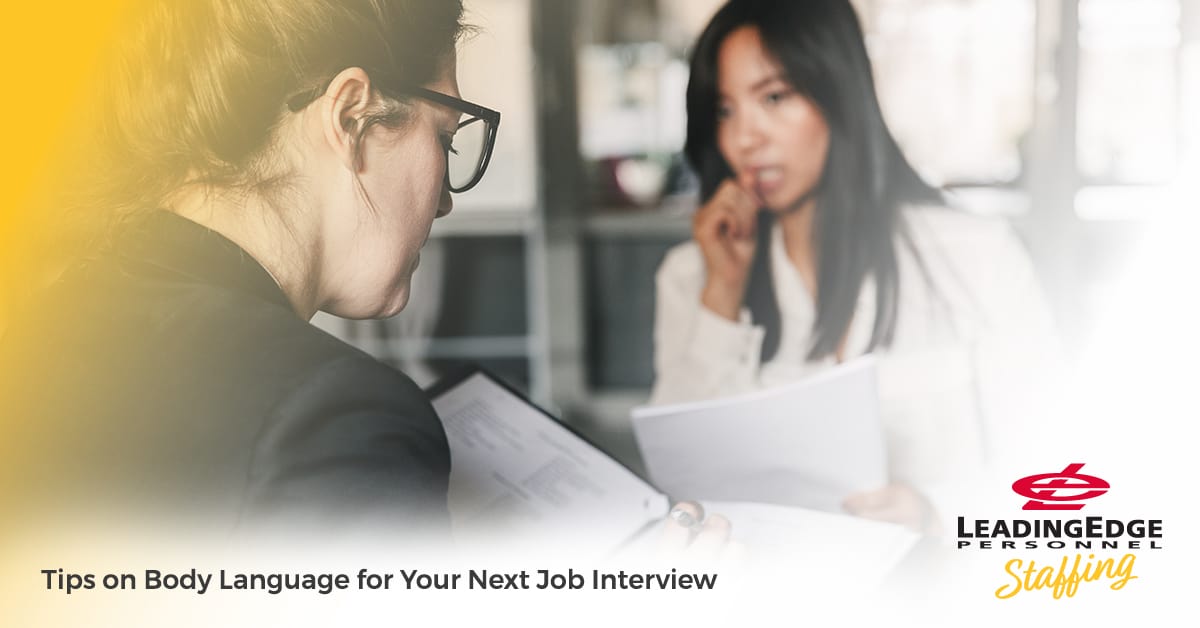 08 Mar

Tips on Body Language for Your Next Job Interview

When you're preparing for an interview, you probably think about what you're going to wear, maybe even have a friend run through a few common questions to practice your answers. 

But do you practice your body language? Have you ever given that much thought? 

In addition to having a great handshake, a confident smile and a sharp-looking outfit, the way you carry yourself and the messages your body language gives off can help make a great impression on your would-be boss — or can suggest you're not sure about yourself or the position. 

Here are a few tips on putting your best self forward during an interview, without saying a word. 
Make eye contact.

When you carry on a conversation with a friend, eye contact is likely easy and comfortable. You probably don't even think much about it. But when we're nervous, we tend to avoid eye contact, looking away from the person we're talking to, maybe studying a spot on the floor or ceiling or staring down at our hands. Good, comfortable eye contact — looking directly at the person in a friendly and open manner, in a way that is confident without being too serious or too much — can make a great impression. Holding a person's gaze and looking at them when answering their questions shows that you're prepared and confident. 
Maintain good posture.

When you walk into the room, keep yourself upright — shoulders back, arms at your side, standing tall and confident. When you take a seat, keep sitting up straight and resist the urge to slouch or lean forward too aggressively. Sitting upright also helps your voice carry, allows you to listen better and makes for more engaging conversation. 
Use your hands effectively.

A good interview will start with a handshake — not too firm, no need to squeeze! Some people naturally talk with their hands; if you're one of them, be sure to be efficient with your gestures without going overboard with broad gestures or using them too much. If you're suddenly not sure what to do with your hands, fold them in your lap but resist the urge to stare at them. Also resist the urge to fidget with them — being nervous is understandable, of course, but fidgeting makes you appear unsure of yourself and could work against you. 
Be an engaged listener.

Interviews are an opportunity for you to plead your case, to make the argument that you're the best person for a job. But an important part of talking is listening. You want to make sure you're answering the question being asked with the best details, the most applicable anecdotes and the information the person speaking with you wants to hear. Listen for nuance in what's being asked and, if needed, take a moment to answer the question confidently and concisely. 

Make sure you look the part.

Your body language can be amplified or impeded by what you're wearing. Before your interview, do a test run: Make sure everything fits correctly and comfortably, from head to toe, so you'll feel and look your best when the big day comes. If anything needs to be washed, pressed, mended, altered, etc., trying on the outfit ahead of time will give you the ability to get it done before the interview without feeling rushed. You don't need a three-piece suit to look like a million bucks, but you do want to appear professional, polished and well put together. When we look good, we feel better and more sure of ourselves. You don't need an uncomfortable outfit ruining a great opportunity! 
Before walking into the meeting, take a moment to breathe deeply and talk yourself up. Give yourself a little pep talk and then go in and make a great impression! 
If you're looking for other options in your job search, call LeadingEdge Personnel. We work with great companies looking to bring people onto their team and we can help you find a good match that meets your career and personal goals. Call LeadingEdge today and let's get started!