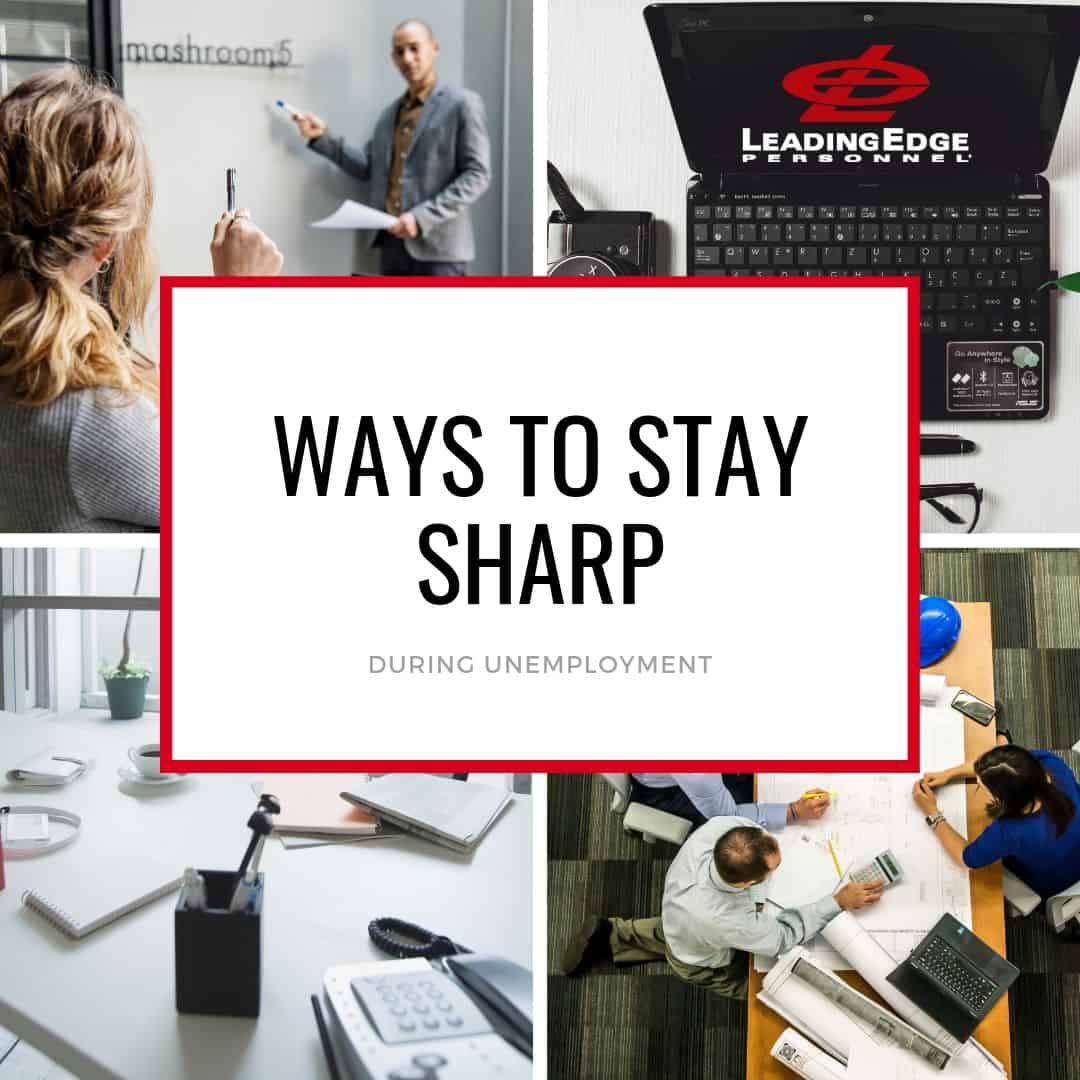 14 Jul

Keep Your Skills Sharp During Unemployment
Keep Your Skills Sharp During Unemployment
Unemployment can be a tough time in your professional life. Whether it's because of a company restructure, for cause or because of resignation, unemployment is flat out tough. Not only is loss of employment emotionally taxing Being unemployed can leave you worrying about how to avoid gaps in employment on your resume.
While unemployment is stressful, there are some ways you can continue to grow your skill set outside of a traditional work arrangement. 

Ways to Stay Sharp During Unemployment
If you're unemployed- the most important thing is to not lose heart. Allow yourself some emotional space to accept your situation and then get tactical. Here are a few tips to help you avoid a rut and keep your skills sharp so you're ready for your next big move!
Things to Do
Consider any of the following or a combination of the following to stay busy during this new season of your professional career:
Join a networking group. Try looking up meetup groups in your area such job seekers support groups and toastmasters groups to help you practice your elevator pitch. There are plenty of networks discoverable by a simple search online.
Keep a Schedule. It might sound silly. And yes, you might need a couple of days to regroup following a loss of employment. But, keeping a schedule will help curb depression or anxiety associated with unexpected job loss. In addition, keeping a schedule helps you to transition to your next position more readily.
Go to Job Fairs. Knowing how to speak with hiring managers and recruiters is a skill. Job Fairs get you face-time in front of these people and will help advance your presence in front of online applicants. Recruiters and hiring managers enjoy hiring people through their networks. You can quickly look up job fairs near you by clicking here!
Consider temp roles. I know it sounds a bit biased but hang tight with me here.Temp positions are not only great ways to learn about companies in the area. Temp roles also help minimize employment gaps and provide valuable new skill development. In addition, temp positions will get you out of the house and adhere to a regular schedule.
Volunteer. Consider volunteer work either with local organizations or through an online platform like the Taproot Foundation. It's a great way to not only keep your skills sharp but give back to the community. Bonus- you can also include it on your resume or LinkedIn profile.
Freelance. The gig economy isn't disappearing any time soon. As you great at document formatting? Do you have an eye and the software for design? Consider signing up with a freelance site like Upwork or Fiverr.
Never Stop Learning. There are plenty of online resources where you can pick up additional skills. Try sites like LinkedIn Learning, The Great Courses Plus or any others that offer free trials!
The Takeaway
While loss of employment can be a gut-wrenching feeling, there are ways to make sure you're ready for your next role. By following a few simple strategies, not only will you stay sharp. You will also have a great way to discuss what you did since your last position and show just how proactive you are. Everyone appreciates a comeback story- so own yours.
Stay tuned for more tips on answering those tricky interview questions, choosing the right agency for you, and cover letter and networking with the right people. If you have a question you'd like to submit for us to discuss, send it to us here.
Be sure to follow us, we're on:
Instagram @leadingedgepersonnel
Twitter @leading_edge1
Facebook @leadingedgepersonnel
We're also on LinkedIn, Youtube and Pinterest! When you follow us, be sure to say hi- we're social people, we love it when you say hi!