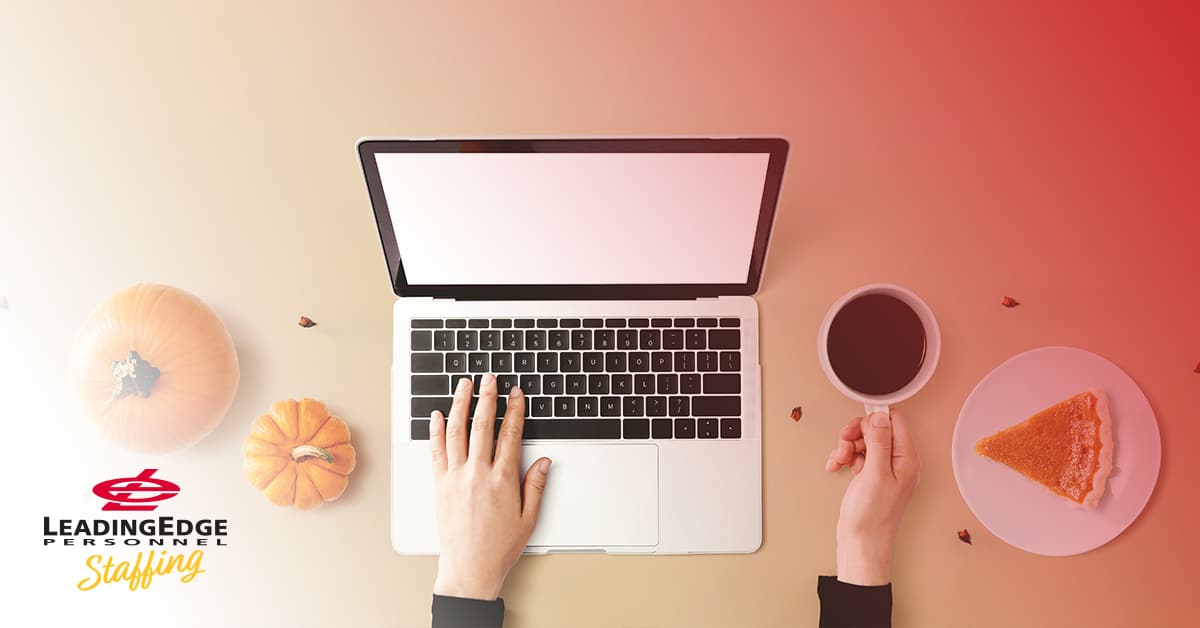 16 Nov

How You Can Prepare for a Productive Holiday Season

As soon as the calendar flips to November, some might believe all bets are off when it comes to productivity. There are parties to think about, travel to book, dinners to cook, presents to make, and correspondences to keep up. Who has the time to do all that and work!?

As a manager, it can be difficult to keep people focused on the tasks at hand. The end of the year is busy in an office, too, as year-end reports need to be completed, last-minute deals brokered, and contracts completed and signed before the clock strikes midnight on December 31. 

You understand your employees trying to balance their home and work lives and get that things are hectic all around, but there are still deadlines to meet. How do you make sure everything gets done? 
Here's some advice on how to have a productive holiday season at work. 
1. Anticipate vacation requests and prepare accordingly.
Some offices establish practices that include a rotating calendar for which employees get what holidays off to allow everyone an equal chance of being with their families on certain days. Most offices are closed on the biggest holidays — Thanksgiving, Christmas, New Year's Day — but the important thing is being fair and equitable with the days before and after these events. Create a system for requesting time off during the holidays because it's going to happen, and make it clear that everyone gets a chance, it just might take some time for their "turn" to come up. If you know in advance how many people will be off on any given day, you can assign projects and tasks, so they still get done on time. 
2. Reward for hard work.
It's so easy for people to be pulled in a million different directions, both at work and home, and it's easy for employees to feel like whatever they're doing is falling short in both places. Take a little time to thank your team for their hard work all year and call out at least one way in which each person has contributed. That little extra attention and praise can go a long way! 
3. Consider flexible schedules or working from home.
If your office was closed for any length of time this year due to COVID-19, you already have a system and procedures in place for remote work. Giving your employees the option to return to their home office for a day or two, or whatever amount of time is feasible for your company, might take some of the pressure off and allow them to be more productive. It's a simple gesture that provides a little wiggle room at a time when it's needed. If remote working isn't a possibility, consider flexible hours or four 10-hour days. Employees who can focus on work at work because the home's taken care of are going to be more productive. 
4. Have a little fun
.
It doesn't need to be a full-blown party with all the trimmings, but gather your employees for lunch or mid-afternoon desserts and a chance to unwind together. Maybe incorporate a small gift exchange or "Secret Santa" program if it feels appropriate. Everyone's been under extra pressure this year; blowing off a little steam and sharing some laughs will brighten everyone's spirits. If your team works 8 a.m. until 1 p.m., knowing there's some fun at the end of the day, it'll make concentrating a little easier. 
5. Look to the future.
Remember that every office is dealing with the same hiccups and distractions at this time of year. Identify projects or deadlines that can wait until January and schedule them accordingly. Give everyone a little more breathing room — this of all years, everyone deserves it. 
The hustle and bustle of the holiday season is a lot to take, but it doesn't have to mean a tremendous amount of stress. Prioritize, establish goals, and provide a little room to breathe, and everyone will feel better and become more productive without losing sleep. 
Expand Your Team with LeadingEdge Personnel
At LeadingEdge Personnel, we know it can be difficult to be a manager and be sympathetic to your team. If you need additional suggestions on how to walk that line, give us a call. Or if you're looking to expand your team for more success in the New Year, we can help with that too! Contact LeadingEdge today, and let's get started.