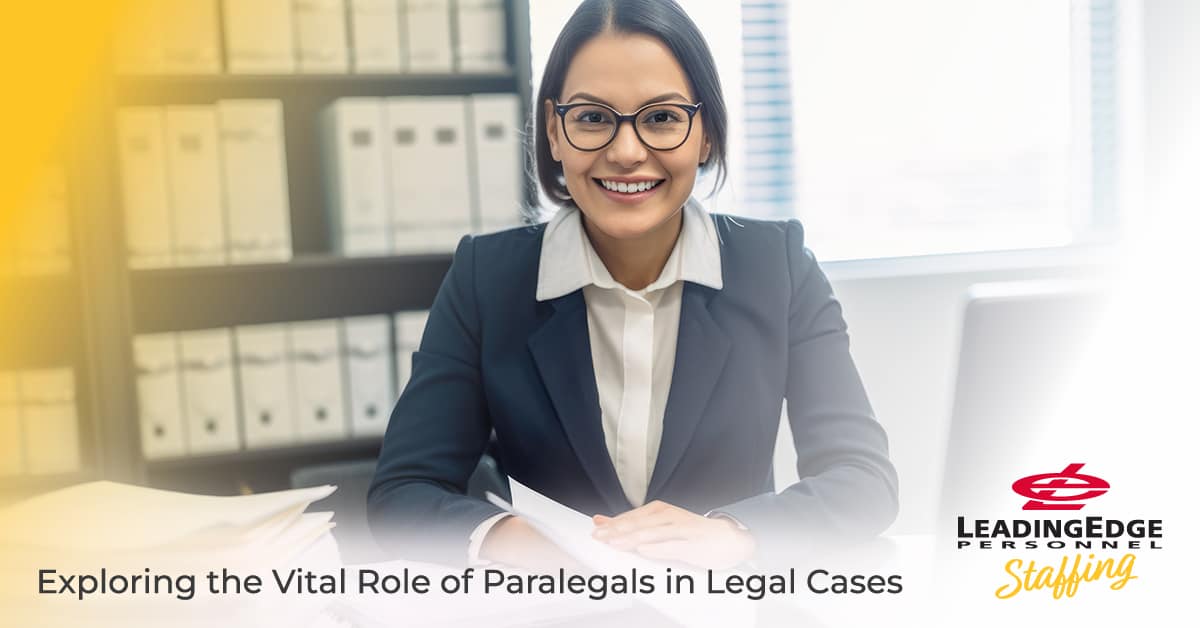 04 Oct

Exploring the Vital Role of Paralegals in Legal Cases

If you like being a helper, enjoy the challenge of project management, love being organized and are curious about the law, a career as a paralegal might be a great fit for you! 

A paralegal is someone who is not a lawyer but works in a law firm. Some paralegals have attended college to become a lawyer but decided to take a different path, but a legal background is not a prerequisite for this kind of job. While unable to give out legal advice or try cases, paralegals help with research for cases, drafting documents and providing assistance with communication between lawyers and their clients. A paralegal might spend quite a bit of time speaking with clients, working to take notes and better understand the situation that has them preparing for court in order to help build a strong case. 

The American Bar Association says paralegals are "'qualified by education, training or work experience" to work in a law firm, corporation, government agency or other organization to perform certain work that is legal in nature and specifically delegated to them by their managing attorney.

Let's take a closer look at the tasks a paralegal usually undertakes: 
Paralegals will draft legal documents to help organize the case at hand, establishing the course of action their attorney will take and the legal precedents and case law applicable. They will also help find and contact other parties involved in the case that might provide expert testimony, provide supporting arguments for their client or otherwise help out the case. 

They will also file discovery requests, attempting to make sure their attorney has all pertinent information, documents, files, forms and other materials that will be needed when arguing the case in court or in front of another deciding authority figure like an arbitrator. 

Paralegals will arrange for witness or supporting party interviews, help draft their statements and prepare them for testifying. 

A paralegal also may be tasked with organizing and establishing a trial notebook, preparing exhibits for court and arranging court appearances for witnesses. 

When a trial is in session, paralegals might be responsible for taking notes during arguments in order to help redirect a case or to find additional case law or precedent the attorney might need. 

If an attorney needs to compel a witness to testify or appear in court, the paralegal might be tasked with drafting that summons or notice. 

Paralegals may be responsible for analyzing records and other files and making recommendations to attorneys on which ones are most useful to their case, in addition to researching statutory and case law, research memoranda, rules, orders and other documents that could be used in court.  A paralegal also might be asked to draft summaries of the materials they've researched and collected.
Other than law offices, paralegals might be hired to work in corporate offices, to help their legal teams; government agencies at all levels (local, county, state, federal); and nonprofit organizations, where their work might be more cause- or issue-specific. Some large companies or law firms have dozens to more than 100 paralegals working for them, all on different tasks or projects; smaller firms or offices might just have a few and, as a result, paralegals there might be able to get experience in many different facets of the law. 
If you're interested in the law but don't want to spend years in law school, or don't enjoy the thought of arguing a case in front of a judge or jury but want to help make a difference, a career as a paralegal might be perfect! It's an exciting field where there are plenty of opportunities to learn a lot and you could be a vital part of a team. 
Ready to learn more and to see if you have a future as a paralegal? Call LeadingEdge Personnel today! Or take a look at our jobs page and see if there's a paralegal position near you, then send us your resume for review. We can help get you where you want to be! Contact LeadingEdge today and let's get started.