25 Aug

How Exactly Does Direct Hire Staffing Work?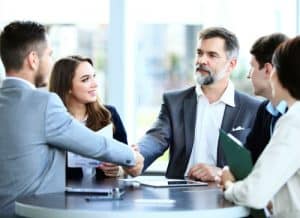 Both employers and job seekers have similar things in mind. They know what they want, but have to find the right fit to ensure all parties are satisfied. That's where the assistance of a staffing agency comes in. Whether you're looking for a direct
hire job with full benefits, or just need a part-time or temporary job, starting with an employment agency will help your job search be more efficient.
The difficulty with finding an office job is there are thousands of them posted online any given day. With so much competition, you need a resource to help give you an advantage over other applicants. Direct hire staffing could be effective for you, but you do have other options available as well.
Find A Permanent Job in The Industry You Desire
Being a direct hire is more difficult than you think since many times there are hundreds of applicants or more for any given job. However, one way to set yourself apart is working with a staffing agency to get your foot in the door. You will do your initial interview with the agency itself so they can learn more about you. Then the agency will use their connections with relevant companies to connect you with the permanent job you desire. There are no guarantees, but you'll at least have options.
Difference between Direct Hire and Contract Work
Companies may not be looking for a direct hire right now, but contract or temporary work may be available. Temp-to-hire is also popular since companies don't have to commit to an employee until they know they are the right fit. On the same note, a job seeker may benefit from temporary work at first just to ensure they like the company
and the work they'll be doing before they commit long-term.
Staffing Agencies Help Job Seekers Find What They Want
Using a good staffing agency will help get you in the job you want, whether it's permanent, temporary or part-time. Being a direct hire has plenty of pros and cons, and it is usually a case-by-case basis. While many employers work with an employment agency to find temporary or contract employees, direct hires are available as well.
LeadingEdge Personnel is the number one source for job seekers in the Austin and San Antonio areas. We have helped thousands of people find the jobs they desire through direct hire, part-time or temporary employment. Be sure to contact us to see how our services can help you in more ways than you thought.
For more information about finding a direct hire job through a staffing agency in San Antonio or Austin, visit http://www.leadingedgepersonnel.com