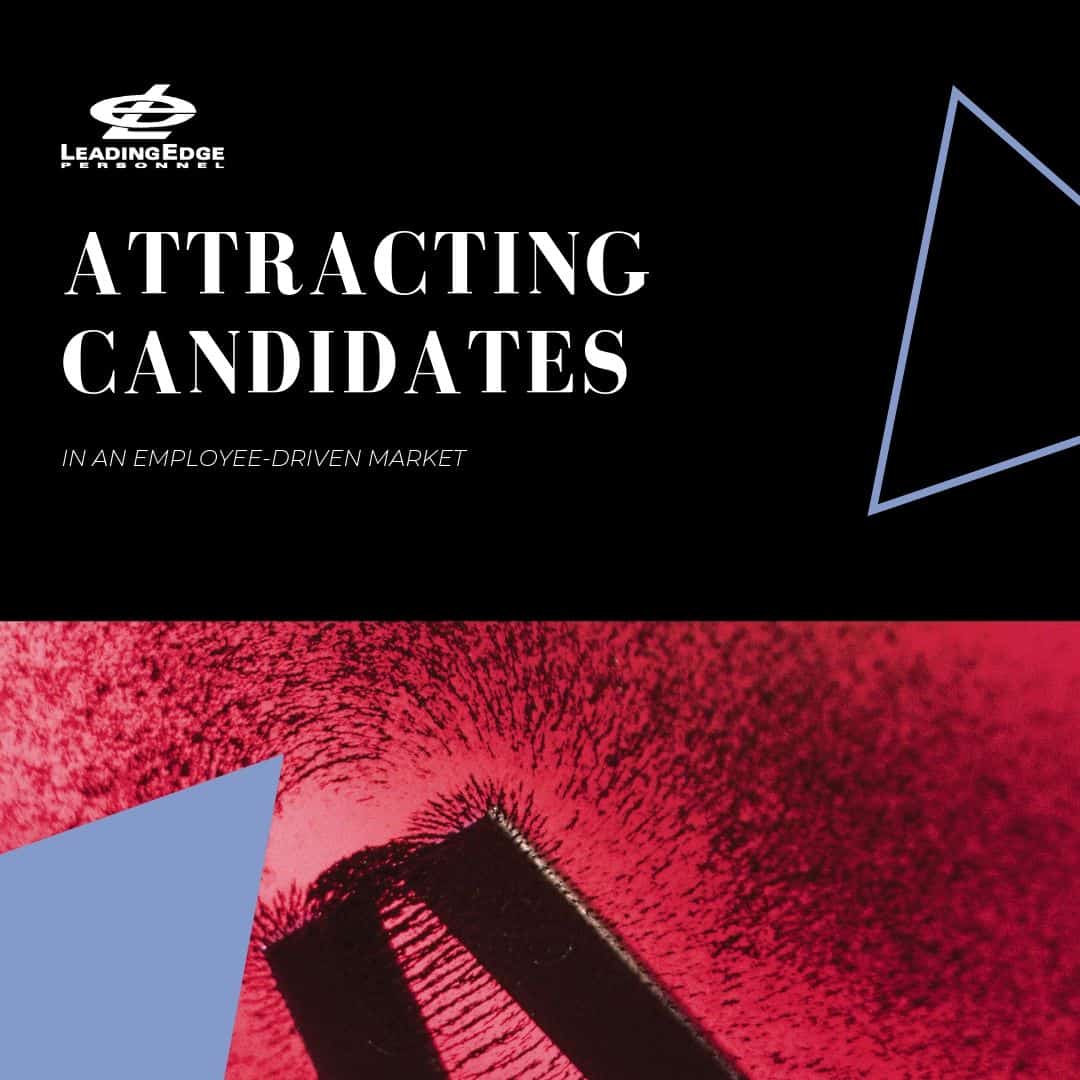 19 Jun

Attracting Candidates in a Competitive Market
Attracting Candidates in a Competitive Market
We hear it all the time. It's an employee-driven market. It's true. Potential employees have choices when it comes to their career. Gone are the days of the employer holding the cards and it's outright tough to attract candidates in a competitive market. In this post, we'll discuss the difficulties of attracting candidates in this market, ways to get ahead and things you can do to enhance your strategy at little to no cost.
The Difficulties of an Employee Driven Market
Employers are reporting "ghosting" by candidates at alarming rates. Many candidates get offers within 2 weeks of their search process. And if you think your employees aren't looking- recruiters are looking for them.
More than that, many companies can't compete with some of the larger or high tech firms in their recruitment efforts. Some companies lack resources in terms of personnel. Some companies lack resources in terms of finances to provide competitive benefits packages. So what do you do?
Things to Keep in Mind when Hiring in a Competitive Market
Here are a few things you can think about, discuss with your team and put into place in order to stay competitive in your market.
Know Your Brand. Take a good hard look at your reviews on public sites such as Glassdoor, Indeed, and Google and know what people are saying about your company.  Are the reviews something to be proud of? Is it something that new employees or prospective employees would find exciting? If not, work hard to improve your brand. You can do this by talking to current employees and asking them to leave a review. You might also consider responding to reviews- as positively as possible.  If your reviews are a pain point, consider upping your social media game to help people understand your company from the inside and others.
Make a List. First, sit down and make a list of your perks. Next, talk to your employees- ask them what they enjoy most about working for your company.  Is it time to revisit some of the perks that are low cost to your company but could add value to your offers? Perhaps you have flexible hours, remote days or afternoon, a family-friendly environment? Does your company offer casual Fridays? Is your company culture inclusive? Can employees work remotely? These things can matter to me more than some of the other aspects of employment so be sure to keep these things in mind.
Tell Your Story. Now that you know your benefits, perks, and brand, practice your story. When you tell the story of your company, the open position, team structure, and culture, sell it. Give a prospective employee some honest insight as to what you do, what you're offering and don't forget the perks. Recruitment Marketing. If you're recruiting and you're not thinking of your hiring efforts as marketing efforts- you're one step behind. Start with teaching your recruiting team how to be great marketers who are capable of telling your story. Team them up with your sales team and brainstorm together.
Listen. When you're talking to me or potential employees, don't just go through your standard interview questions. An interview is not a checklist. Actively listening to what it is a candidate is looking for in an employer. In addition, you might even try asking this out right. When you actually listen to any prospective employee, their words will give you incredible insight into what they're looking for in the next opportunity. Perhaps compensation isn't the most important thing to them it could be a number of other things that your company actually does offer. You'll never know if you don't listen. By paying attention, you can zero in on their needs and their wants and speak to that specifically.
The Takeaway
Hiring talent in an employee-driven market is hard. We all face the same struggles, but by getting a few thing keys in your recruitment process in line, there's a way to stand out! As a consultative partner, LeadingEdge Personnel strives to be one of the best locally-owned staffing agencies in Austin and San Antonio. Looking for more information on hiring better, the difference of cultural add over cultural fit, or using social media in the hiring process? We've got you covered!
Be sure to follow us, we're on:
Instagram @leadingedgepersonnel
Twitter @leading_edge1
Facebook @leadingedgepersonnel
We're also on LinkedIn, Youtube and Pinterest! When you follow us, be sure to say hi- we're social people, we love it when you say hi!