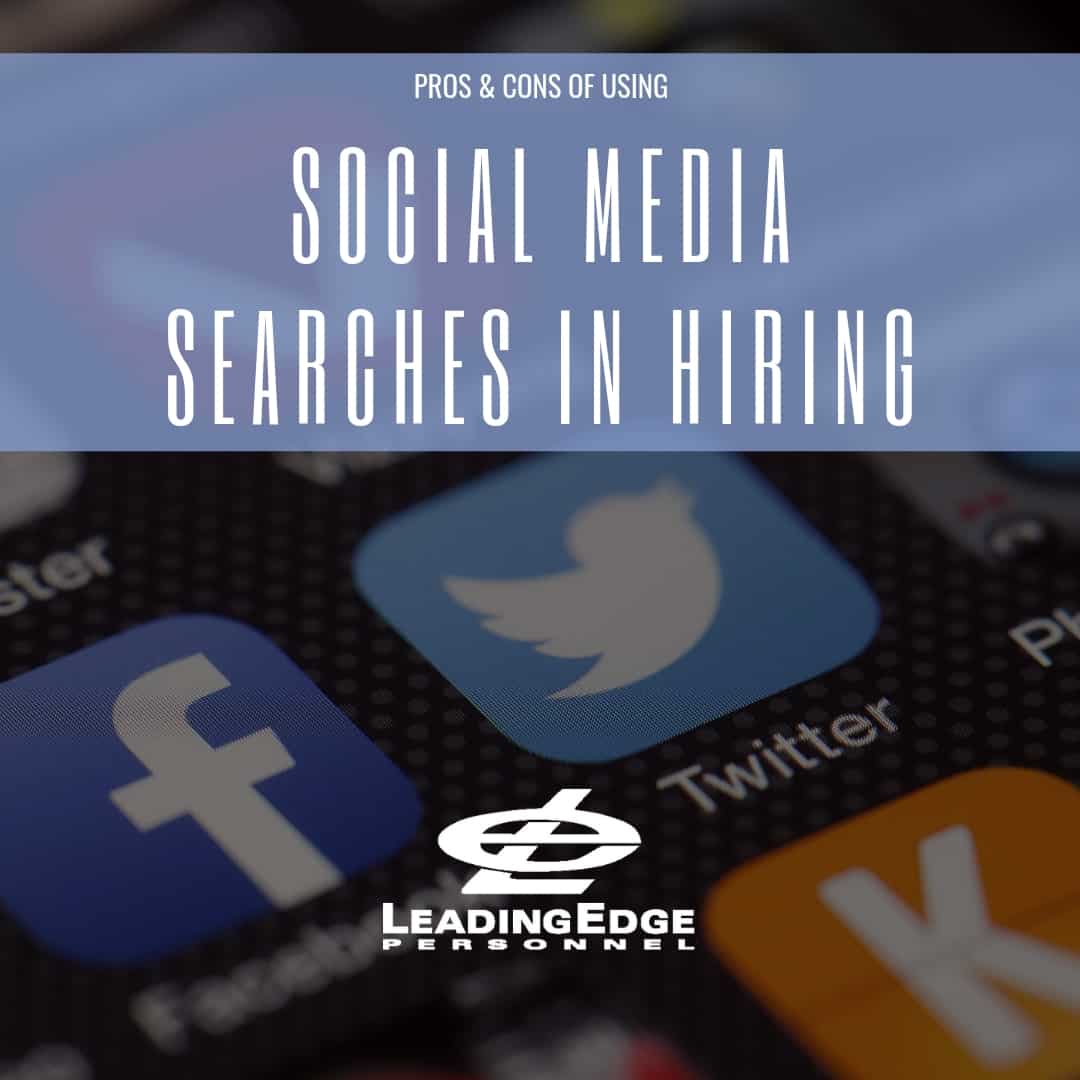 30 Apr

Social Media Searches in Hiring Processes
Pros and Cons of Social Media Searches
Many employers are curious to find out more about potential new team members. A trend that has become more popular in the recent past is to conduct social media searches. Just as with any screening method, there are benefits and drawbacks to using social media searches as part of hiring. In this post, we'll go over some of those benefits and drawbacks. We'll also go over how to use social searches carefully, preserving candidate experience and privacy regulation.
The Benefits of Social Media Checks for Potential Candidates
Valuable Insight. You can gain valuable insight into other factors but you should not use these as a way to screen out a candidate. You may be able to gain ideas about their additional abilities, sample work, skills, and recommendations. According to a Career Builder study, 33% of hiring managers were able to build a better case for the employee and thus able to advocate for them.
Access to a Different Group of Candidates. Most recruiters and hiring managers understand that in this market, you cannot simply rely on inbound candidates. As an agency, we've found that some of our best hires are those we sourced ourselves AKA "passive candidates". Since a large proportion of talent is employed, social media provides a way to effectively source talent who may have not applied directly.
Branding. If you are a company with a strong brand in the social sphere, using social media to engage with new talent is a great strategy. Your brand along with your ability to engage shows that not only are you reputable but also, that your company is agile and growth-oriented.
Speed. Social media searches are fast- flat out. While with many recruiting and sourcing avenues, you are subject to a posting wait period, applicant flow and the like, with social media, your contact is instantaneous.
Due Diligence. Social media searches can help you learn whether or not your candidate or potential new employee conduct themselves in a way that is professional when searched online. If you can't find information on this candidate, it's safe to say your potential employee understands the importance of changing privacy settings and is a tech-savvy hire.
The Cons of Checking Social Media during your Screening Process
Just as there are benefits to using social media searches as part of your screening process, there are also drawbacks. Here are a few things to consider:
FCRA & Background Laws. Consider the legal implications when you conduct a social media search. Since many profiles may speak to certain "protected" characteristics, it is possible that either conscious or unconscious bias may play a part in your interpretation of the profile and/or employee. An FCRA violation can result in actual, statutory and punitive damages as well as attorney fees and costs.
Reliability. Your search may pull information from different seasons of a person's life. Perhaps certain factors or things you might come across may have changed or can be easily misinterpreted.
Inconsistency. Some candidates adjust their security settings to reveal minimal information while others may not. The variances between privacy settings can lead to unfair screening practices. How can you consistently measure a candidate's potential cultural fit if your process isn't consistent and measured? More than that, cultural add is a more important factor than fit and organizations benefit from diversity in their hiring practices.
Best Practices for Using Social Media in Your Recruitment Process
While we don't encourage the use of social media screens as part of a hiring process, if you do plan to engage in this practice, there are a few best practices that may help reduce your liability. As always, we encourage you to consult with your legal team before revising any part of your screening processes relevant to background searches.
Create a social media screening policy. This may help with consistency and outline the internal procedures based on your consultation with your legal team.
Wait to screen your candidates until after the initial interview. This may reduce your liability in EEO violations and help foster a culture of diversity.
Leave the screening to human resources. Your HR team is the team most likely to have advanced training in emotional intelligence, non-bias procedures and the like. If you're going to use a social media screening method, let your HR team handle these checks.
How Can We Zero in on a Good Hire?

Of course, we never mean to scare clients however we consider our role to be a consultative partner. With that said, there are a few things you can do in lieu of social media searches to enhance the quality of hires.
According to an Indeed study, the most predictive factors and processes to use when making a great hire include:
Structured interviews

Unstructured Interviews

General Mental Ability Assessments

Tests specific to professional and managerial abilities

Reference Checks

Work Samples
The best formula, as provided by Indeed includes:
General Mental Ability Assessment + Integrity Assessment + Structured Interview.
This formula will increase your quality of hire to 78%. That means nearly 8 out of 10 of your hires will be the RIGHT person with the RIGHT talent.
The Takeaway
Social media searches offer both benefits and disadvantages. If your company is currently using or will use a social media search, there are a few ways to reduce your liability as an organization.
On the subject of making great hires, there are other factors to use that are far more reliable than a social media search. In addition to proper screening, understanding metrics can help you hire better. As a consultative partner, LeadingEdge Personnel strives to be one of the best employment staffing agencies in Austin and San Antonio. 
Be sure to follow us, we're on:
Instagram @leadingedgepersonnel
Twitter @leading_edge1
Facebook @leadingedgepersonnel
We're also on LinkedIn, Youtube and Pinterest! When you follow us, be sure to say hi- we're social people, we love it when you say hi!