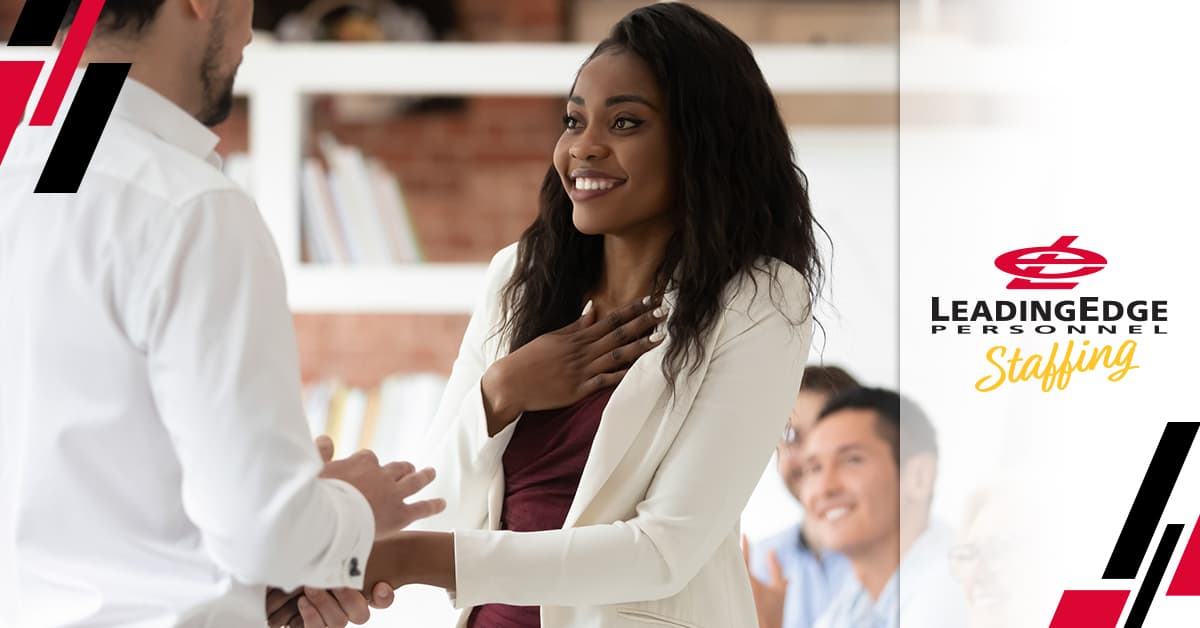 17 Aug

5 Ways a Temp-to-Hire Position Can Set Your Career Up for Success

According to the latest labor forecasts, temporary jobs are predicted to grow faster than any other type of job through 2025. The latest numbers suggest that temporary and temp-to-hire positions will grow by more than 3.2 million jobs in the next three years. Both companies and candidates seek greater control over the job market and more flexibility in how they hire and work. Taking on a temp-to-hire position is the new normal for many job candidates. What you'll find is that taking these jobs is less about necessity and more about the desire to reap the benefits of these kinds of roles. What are the benefits of a temp-to-hire position if you're looking for work? How could a temp-to-hire role help you achieve your career goals? How can LeadingEdge Personnel, a temp staffing agency in Austin and San Antonio, help you down the path toward a more lucrative and exciting temp-to-hire position?
What Are the Advantages of Temp-to-Hire Jobs for the Job Seeker?
It doesn't matter if you're a fledgling job seeker just coming out of school or a long-term seasoned veteran of the industry you're in, a temp-to-hire job offers some serious benefits that you may not have considered. On any given week there are more than three million Americans working in these flexible arrangements. Why?
Temporary work is a great way for the unemployed to reenter the workforce. For candidates that struggle during the interview process, a temp-to-hire position allows them to show off their skills to a skeptical employer. Temp-to-hire lessens the risk while giving job candidates a way to exhibit their skills. It's great for employers who want to evaluate your job performance. But it's also great for the candidate; after all, you're taking a risk on the employer, as well.
The benefit for you is that a temporary job could convert to a full-time position. That is, if you want it to and if the employer wants it to. The point is that a temp-to-hire role sets up a win for the candidate and the employer, by taking away any risks associated with the hiring process. A temp job can set your career up for success for a candidate without the concern that you won't fit into the environment or that you won't like the work. It's not just the employer that gets to "try it before you buy it" in a temp-to-hire position.
If you're still not convinced, here are five ways a temp-to-hire position with an Austin or San Antonio staffing agency could move your career forward.
1. You gain valuable resume skills.
This is a massive plus if you're starting your career. But it's also a helpful benefit if you're at the mid-way point of your career and you want to switch industries or job titles. It can even keep your skills fresh if you've been in the field for a long time. A temp-to-hire position gets you into new work environments to experience new challenges. It's perfect for a recent grad who doesn't know exactly what work environment is the best fit.
Actually, every new employee probably worries that they will not fit in when going into a new job. Temp-to-hire lets a candidate try out all kinds of skills in all types of environments. Consider these roles as resume builders; a temp-to-hire job can broaden your skills in everything from a start-up environment to an enterprise organization. All of these experiences will strengthen your marketability with employers.
2. You get your foot in the door.
LeadingEdge Personnel has been a temp staffing agency in Austin and San Antonio for years. We know that the best companies are sometimes tough to get into. But we can help you with a temp-to-hire position that can open doors to some of the best companies in the region. We see companies allocating a separate budget for these contracted roles. That's opportunity for you—and the employer.
3. You expand your professional career network.
Part of the "cool factor" when working with a temp staffing agency is that you are going to meet a lot of people. That's a huge benefit if you're looking to build your professional network (who isn't these days). LeadingEdge Personnel knows people, and if you work with our team on a temp-to-hire position, you will, too. You'll make some lifelong friends, learn great resume skills, and have a cadre of industry connections at the end of your temporary assignment. You may even have an offer for a full-time job—if that's where you want your career to go.
4. You could switch careers entirely.
If you're thinking about a career switch, there is simply no better choice than a temp-to-hire job. You can research a career path all you like, but until you're actually doing the job, you're simply not going to know if it's a fit for you. Or, you may decide that you want more flexibility in your life. A temp-to-hire job lets you decide when and where you want to work. We've placed school teachers in temp jobs over the summer break. We've helped retired executives find meaningful work and income long after their corporate career has ended. College graduates struggling to find work take a temp-to-hire job and end up making contracting a permanent career choice that helps them find better work/life balance in their lives.
5. You'll become engaged in your work again.

A lot of people have been in a slump since COVID hit. Many people were furloughed or laid-off, and we heard a lot of terrible stories during 2020. But the market is hot again with temp-to-hire jobs in many fields. These positions can help reintroduce you back into the workforce and help get you productive, engaged, and excited about your job again. As a temp staffing agency in the San Antonio and Austin markets, LeadingEdge Personnel knows first-hand that there is a booming marketing of jobs now, and you could have the pick of the litter—as long as you reach out to our team.
Grow Your Career with LeadingEdge
Click here to see our available jobs and then give us a call.