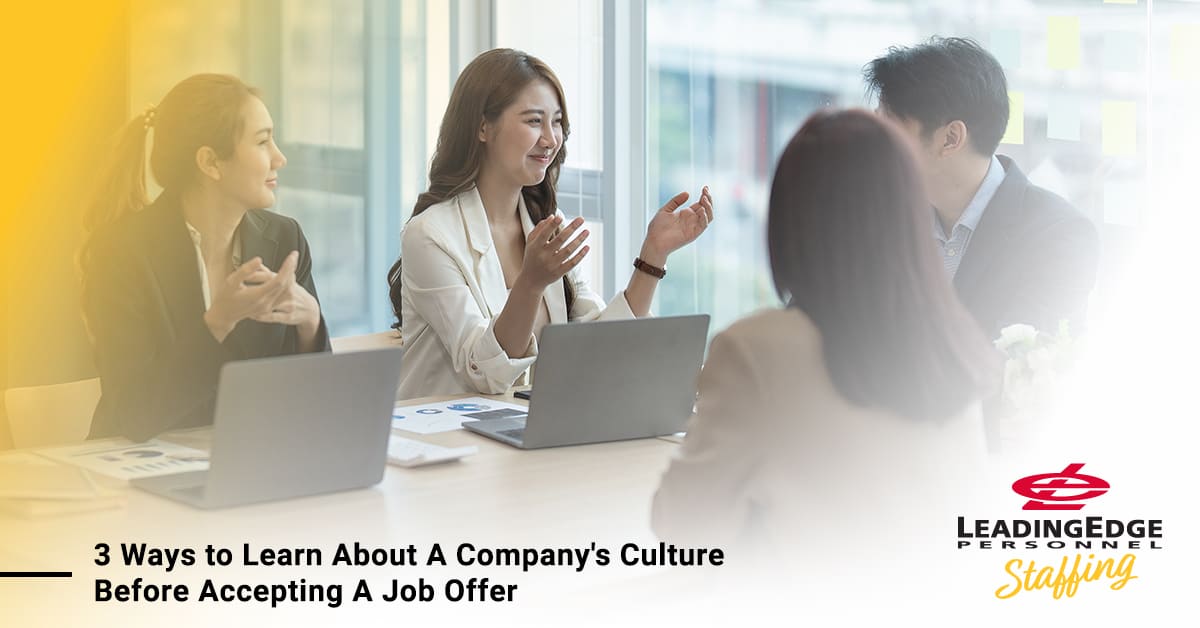 03 Aug

3 Ways to Learn About A Company's Culture Before Accepting A Job Offer

Things are going well! You've had a phone interview and an in-person interview with a potential employer and it feels like this might be a great match. But there's one question left to be answered: Would the company's values and culture be a good match for your own personal priorities? 

It's a concept that would've seemed strange even 15-20 years ago, but people want to know what a company's about before they join. If you're spending 40 hours a week at work, it's good to know, at the core, you want the same things in this working relationship. 

So how do you find out about a company's culture — the good, the bad and the ugly — before you join? 

Here are a few ways. 
Turn to social media and job sites.

Read company reviews on job boards, employment sites; do a search on social media for the company's name. See what you can sleuth out. Are more people singing the company's praises than complaining about questionable moves? How do the people who work there talk about their employer? If you can find a few people who currently work there, by searching on LinkedIn or other platforms, ask them directly what they like about their job and their company. See what they have to say. 
Do a little research.

How does the company talk about itself? Go on the website and see if there's any reference to culture, values, community, etc. Does the company talk about any of those topics in a way that goes deeper than some surface-level buzzwords? Is there any evidence that this is more than just words on a website? 
Ask during the interview.

If you've only had one interview but a second is lined up, you'll have an opportunity during the interview to ask questions. Prepare some that speak to the company's culture and values. How diverse is the staff? How does the company encourage employees to prioritize a work-life balance? What kind of wellness programs, or health incentives, are offered? If you know of some perks offered by other companies where your friends or relatives work, use those as examples to see if something comparable is offered at this company. 
Ultimately, you know what's important to you and what you need in a working environment. You know the kind of personal support you'd like to have and what kind of things matter to you. Remember that an interview is as much you learning about the company as it is your potential employer learning about you. If it feels like a good fit, that's great! But if it doesn't, there's no harm in walking away.

If you're looking to find a great job in a company that shares your priorities, call LeadingEdge Personnel. We partner with companies who will value you and your skills and we'd be happy to introduce you. Just give LeadingEdge a call!