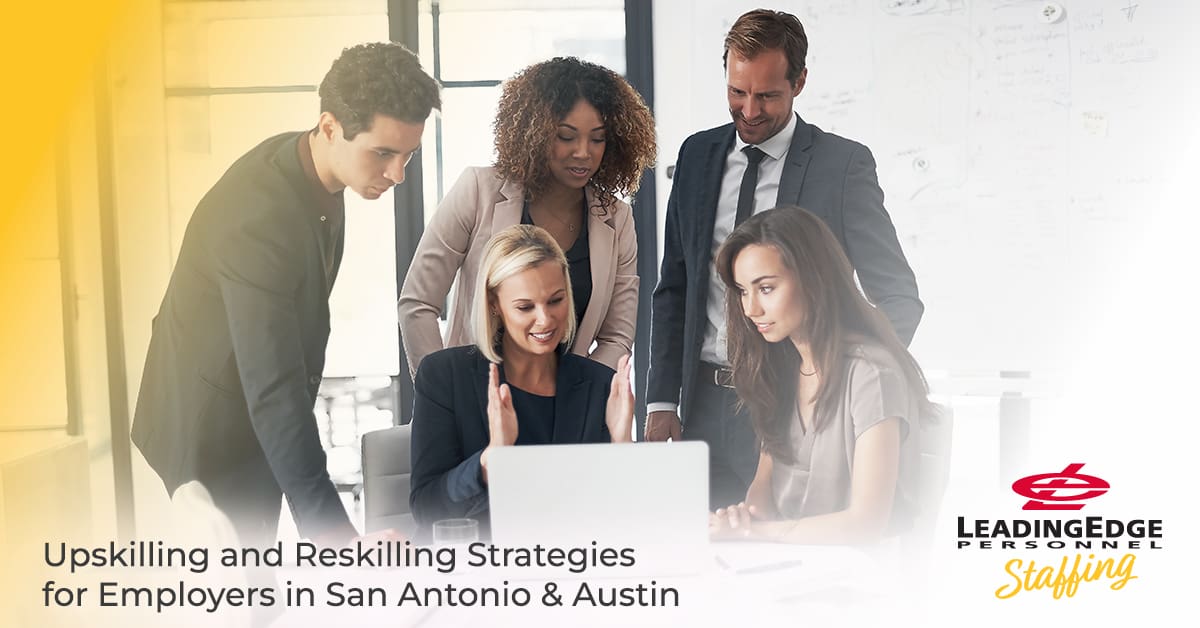 25 Oct

Upskilling and Reskilling Strategies for Employers in San Antonio & Austin

The world is changing quickly. Do your employees have all the skills your company needs to be successful? 

If you're not sure, don't worry. There are plenty of ways to expand the skills base of your team without having to bring on a whole new set of employees. Improving and expanding your existing employees' abilities allows you to invest in your team and acquire new opportunities — and it might even stave off turnover! 

Here's why it matters and how to get started. 
Go online.

The internet is an incredible place for learning. Depending on what kind of industry you're in and the skills your team needs to have for continued success, there are online tutorials and classes for just about everything. Many of these programs are either available for free or can be utilized for a single fee for a group, making it a smart economic investment for your company on many layers. Encouraging your employees to spend part of their workday watching these tutorials, taking these classes and practicing what they learn will help them learn new things while showing them you want their careers to continue to expand as well. 
Encourage your team to pursue their own interests as it pertains to their jobs.

Once you've introduced the concept of an ongoing education program, understand that not every training program will appeal to every employee. If one member of your team has expressed an interest in marketing, for example, encourage them to see what they can find online to pick up training and let you know what they find. Khan Academy, edX, FutureLearn and Coursera are just a few of the free, expansive online learning portals that are available to teach soft skills, technical concepts and other things that might appeal to your team while expanding their abilities. 
Create a mentoring or skill-sharing program.

Everyone has some kind of special skill or passion for something that means a lot to them. Why not utilize those passion projects to your company's benefit? By creating a mentorship, job shadowing or skill-sharing effort at your company, you can help your team share their expertise, increasing their own job satisfaction and engagement in their work, while at the same time helping other members of your team learn new things that might spark their own curiosity and intellectual adventures. Setting aside time for this kind of exchange is a win-win for everyone. 
Bring in the experts.

While the internet is a near-infinite resource, there are some things that can't be taught on YouTube. If there's a new technique, skill or area of expertise that your company needs employees to know and utilize, it's time to call in the pros. Bringing in a professional, expert training to help your team learn a new skill is an investment in their future and yours and it shows, clearly and unequivocally, that this is something your company values and expects to be taken seriously. Plus, sometimes it's just easier to learn from a person, in real time, who can answer questions and provide tips based on in-class conversations. 

This is just the beginning.

Starting an educational, upskilling or reskilling program is a journey that will last forever. If you want your team to learn new skills, refresh what they already know or cross-train people to do other jobs within your company, it's something you'll need to prioritize on a regular basis. The more educational opportunities and training courses you provide and encourage your team to take, the more they'll learn, the more your company can benefit from their abilities. But it needs to be consistent and not something that's a flash-in-the-pan hot idea that fades when things get busy. It must be a commitment from ownership and management — this will also help employees take it more seriously and be more eager to learn and benefit from it themselves. 
We all know the "teach a man to fish" proverb; we all know that helping someone learn a new skill, or helping them add new depth to something they already know how to do, will benefit them in the long run. But it's important also to remember that employees sometimes look to leave a job if they feel their skills are getting stagnant or that they don't have the opportunity to grow in their current position. By offering training and educational opportunities, bringing the classroom to the workplace, you'll help encourage those employees to stay where they are, adding to your company's institutional knowledge, giving your employees longevity and making your company an encouraging and supportive place to work. 
If there are some skills that only a new person can bring in, because the world does change at such a rapid pace, LeadingEdge Personnel can help! Our recruiters will work closely with your company to find talent candidates with the skills you need — quickly. Give LeadingEdge a call today and let's get started!