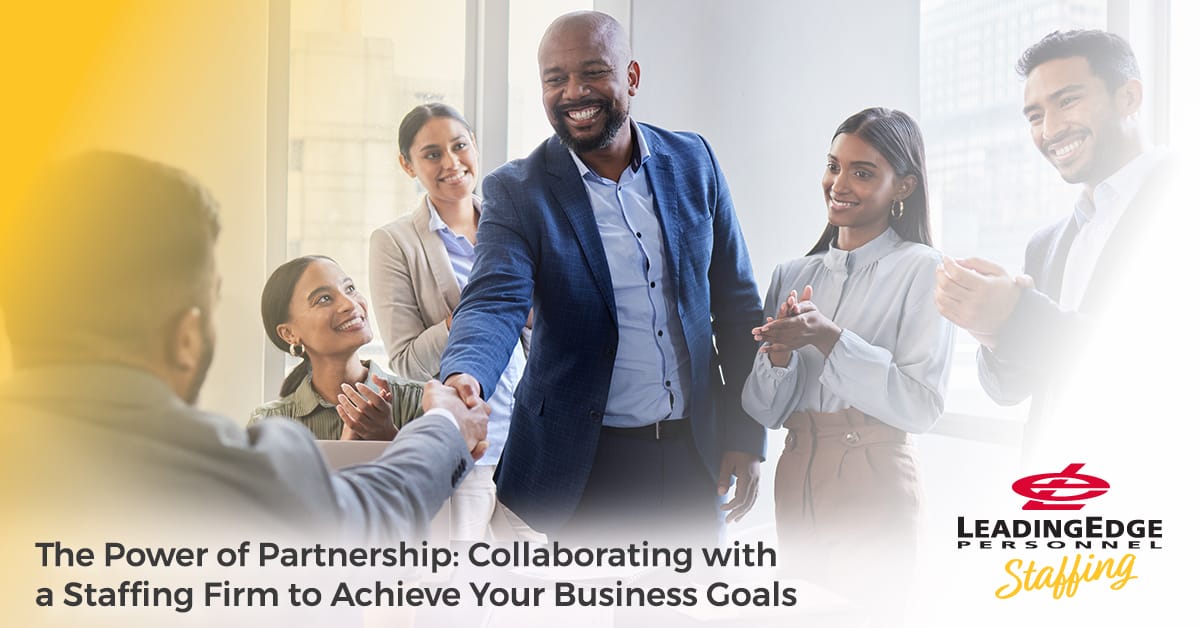 06 Sep

The Power of Partnership: Collaborating with a Staffing Firm to Achieve Your Business Goals

Wouldn't it be great to have a silent, supportive partner to help expand your business, make it even more successful, ready at a moment's notice to be your right hand and instantly understand exactly how they can make your life easier by managing time-consuming tasks? 

LeadingEdge Personnel can be just that partner, at the ready to help with not just your staffing and recruiting needs, but prepared to help expedite the resume review, interviewing, and hiring process with a single communication. 

Here's how partnering with a staffing firm can help your business achieve its goals and be even more successful. 
We do the heavy hiring lifting for you.

Whether you're looking for a temporary employee to fill a leave, a team of short-term employees to help with an unexpectedly busy time, or a new permanent employee that will help right-size your current team, we can go through the whole process. Working with LeadingEdge Personnel is like bringing on a whole human resources department, dedicated to understanding your company's needs and wants when it comes to new employees, then working hard to recruit possible candidates while reviewing resumes. We'll only bring you people who are pre-reviewed and qualified to fit the open position, meaning all the candidates you receive will be a good fit. All you need to do is one round of interviews, and you'll have your new employee. No more digging through piles of resumes hoping to find a gem! 
We can move quickly.

When the unexpected comes up — someone quits without warning right as you're about to go into your busiest week of the year — we can bring in some much-needed help within a day or two. If you have a temporary need in a pinch, pick up the phone and tell us how many people you need and what skills they need to have, and for how long, and we'll send people over. It's just that fast. 
Helping you build your vision for the future.

As your staffing partner, LeadingEdge wants to make sure you succeed. Our recruiters and team can help you establish a vision for your company's success and determine how many people you'll need to hire – now and in the future — to make that vision a reality. We are specially designed, prepared, and organized to support a variety of industries and to find qualified job candidates that will be ready for you when you need them. If your needs expand to new types of skills and experiences, we're flexible and ready to adapt to fit your staffing needs.
Our reach goes beyond traditional recruiting methods.

Staffing is all we do. Recruiting is our specialty. If you haven't had much luck finding the kind of talented candidates you'd like, leave that to us. We can review online profiles, and reach out to people not actively looking for employment, all while going through the job candidates we work with to find a great fit. 

A successful partnership takes some work.

We want to make sure your company is successful and has all the tools and resources it needs to meet the goals you've established. In order to be that partner, we will work together, closely, and meet regularly to keep open lines of communication to build and foster deep trust and understanding. You need a dedicated recruiter who understands your company, where you are now, and where you want to be and is equally invested in making those goals a reality. We will be accessible when you need us and will work quickly to handle the hard work of hiring in an efficient manner. We'll ask you questions initially to get to know your priorities: What kind of working culture do you have, and how do you want to expand on it; what skills are the most important; what do you offer employees in terms of opportunities to learn and grow; what kinds of employee attributes are the most desirable; when it comes to temporary or part-time employees, what job will they be doing and how much training will be provided. All of this will help us find the best people for the job, and, as we continue to prove our ability to find great candidates, your trust and belief in LeadingEdge will continue to grow. It's a win-win! 
We want to make sure your company meets and exceeds all of its goals and are eager to play our part in your success. Just give LeadingEdge Personnel a call to learn more!