24 Apr

Success with Employment Services: How to Stand Out
Success with Employment Services: How to Stand Out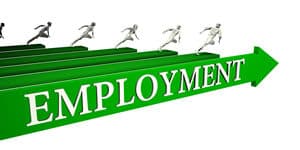 When you look for a job in the San Antonio or Austin area, there might be dozens of applicants for one position. Competition is always at play. You want to look unique on paper and in person, however. Earning attention from prospective employers is difficult when face-to-face meetings are rare at first. Working with a professional agency is a step in the right direction. Stand out from the crowd by following a few tips by the professionals as you explore employment services.
Treat the Agency like the Employer
You might be familiar with the staffing agency industry, which functions as a middle ground between prospective employees and employers. This fact doesn't mean that you should walk into an agency interview with shorts and flipflops on.
Ideally, treat the agency as you would an employer. Wear business-casual clothing to your initial interview. There may be subsequent meetings so be aware of the dress code afterward. In the business world, you should always dress for success.
Take Criticism Constructively
During your first interview with the staffing agency, you might notice a subtle critique of your resume. Don't take any criticism as a negative aspect of your experience. Agency representatives want you to perform well in front of their employer clients. Use the criticism to update your resume. Return with an enhanced, work history.
During subsequent interviews, you'll stand out from the crowd. The resume should match the position in question. This scenario makes it easier for employers to see you in the role.
Be Clear About Your Employment Services Goals
There are several routes that you can take at an employment agency. Be honest about your ultimate goals. You'll stand out if your goal is defined as either a direct-hire candidate or temp worker. This information helps the agency with placement. If they have a permanent position opening, they'll look past the temp-only candidates and focus on the proper workers.
Set Yourself up as a Professional
Your resume may have countless skills, but you still need to look and act the part of a professional. Take a critical look at yourself in the mirror. Do your best to cover up any tattoos that might show on your skin. Although a potential employer may not care about the tattoos after a hire, you still want to show respect by covering them up.
Don't forget to smile and maintain healthy, eye contact during any interviews. Consider the professionalism of your cell phone too. Shut off the ringer during meetings with the staffing agency or prospective employer. Alter the voice mail to reflect a professional person without any unusual sayings or music.
Stay in Touch with Last-Minute Opportunities
Remind yourself that employment services personnel are insiders of the working world. Jobs that may not be advertised to the public will often drift down to agents' desktops. Make yourself a fixture in the agents' minds by keeping in touch. Send an occasional email to your contact so that he or she thinks of you first when a position becomes available.
You might fill a position that was only available for a few days. Several candidates stood out at the agency, including your well-written resume. Be part of a small pool of candidates that thrill employers and enhance your work history.
Work with employment services that understand the complexities of the San Antonio and Austin marketplace, such as Leading Edge Personnel. Hardworking individuals have a chance to shine when they have agents who care about their goals and skills. With some effort on your part, finding a position won't take long. An employer will be thrilled to apply your skills to their needs.