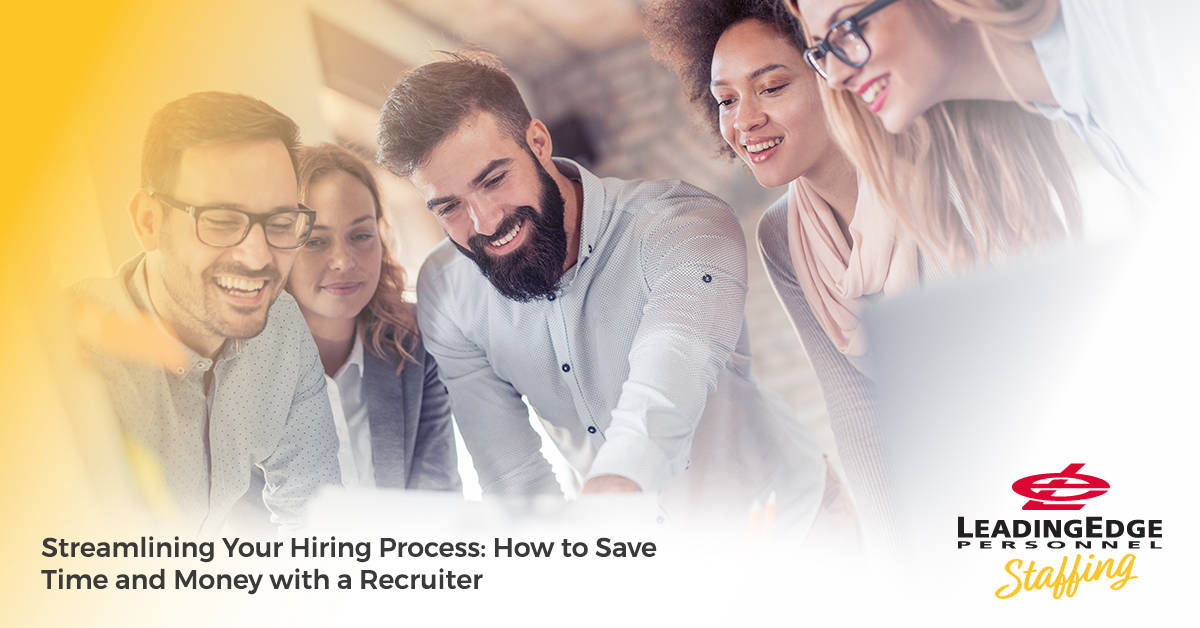 26 Jul

Streamlining Your Hiring Process: How to Save Time and Money with a Recruiter 

The hiring process can be long and arduous for the candidate, but also for the company doing the hiring. There are resumes to shift through, screening calls to be made, interviews to be scheduled and conducted, opinions to be collected and weighed and then, after the offer is made, there's the waiting to find out if it will be accepted. Then the onboarding and training begins. It can take months! 

Or you can do yourself a favor and work with a recruiting company, saving time, money and headaches along the way. 

Here's how working with a recruiter can speed and ease the hiring process. 
They have candidates ready.

 Staffing and recruiting companies work on both sides of the employment equation. They work with clients — companies like yours — to understand their industry, what kind of qualifications are needed to fill positions and what kind of culture you're looking to build and promote. They also work with candidates — potential employees — to help them find a job that fits their skills, background and experiences. By working with a recruiting company, you can tell them what you're looking for and they might have a handful of qualified candidates available and lined up for you to review right away! 
They do the heavy lifting up front.

Recruiters take so much of the qualifying and preliminary work off your hands. They will review resumes, conduct first interviews, check references and can even supply skills tests if needed. They can weed out the qualified candidates from those who don't quite measure up. They can flag the ones that seem the closest to what you're looking for, meaning you don't have to sort through hundreds of applicants to start and narrow down the pile of the qualified from the less-than-qualified. Any candidate a recruiter flags for your consideration will be a good one to interview and will be qualified for the job. No guesswork! 
It frees up your time.

Because recruiters conduct initial phone interviews with candidates, you don't have to get deeply involved in the review and interviewing process until later rounds, after people have been vetted and screened. All the candidates presented by a recruiting firm will be ready to go and able to do the job you're looking to fill. This also means you might not have to conduct two or more rounds of interviews before meeting the right candidates and finalizing a decision; you might just need one round of in-person conversations and be ready to make an offer. 
Find candidates that are a better fit.

The hiring process is so long and can be kind of confusing because you meet so many people and have to retain so much information. It's also possible that people either aren't as honest during the process as they should be, figuring they'll embrace the "fake it 'til you make it" approach when they get hired. Unfortunately that means sometimes people aren't the best fit for your company once you've brought them in. Then you're faced with the problem of trying to determine whether they can work it out or if you need to show them the door and start the process over again. By working with a recruiting firm, you'll be given candidates that are in line with the culture you've established, with a good approach and attitude that will help them fit right in with your existing team. Candidates that are a better fit help build stronger teams and quickly become a great asset for your company. 
Flexibility with staffing needs.

If your company has some big projects coming up and you need extra help, but you're not in a position to hire someone full-time, working with recruiters gives you the ability to hire temporary workers. It's a great option to bring in extra hands during a busy time without having to hire someone permanently and go through the whole hiring process all over again. All you have to do is call your recruiter, tell them what you need and for how long, and they'll find candidates that fit those needs. It's a fast way to provide some relief and ease pressure points, plus you meet people who might be a great fit for your team in the future, should a more long-term need open up. 
Recruiting companies, like LeadingEdge Personnel, are essential to your hiring process. It's like adding a whole team to your HR department with a simple phone call to get started. It saves you time, money, stress and makes the hiring process so much smoother, faster and more efficient. Why not give it a try the next time you need to add to your team? 
LeadingEdge Personnel is an expert staffing and recruiting firm that would be happy to tell you more about the services available and how we can help. Give us a call today and let's get started!