Looking For the Perfect Job? A Temp to Hire Position May Be Ideal For You.

Looking For the Perfect Job? A Temp to Hire Position May Be Ideal For You.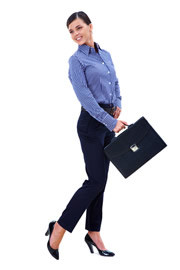 Many people take jobs that pay the bills, but those jobs offer little in the way of professional growth or satisfaction. There are numerous people working in the San Antonio area who would not consider their jobs to be an ideal job to have.
The problem is that most employers do not offer employment on a trial basis, which is actually the most beneficial situation for someone who is looking for the perfect job. If you are looking for the perfect job in the San Antonio or Austin areas, a temp to hire position is the best solution for you.
What Is A Temp To Hire Position?
A professional placement agency is able to put you into a temporary position that the employer would eventually like to fill with a permanent employee. This kind of arrangement gives you and the employer a chance to give your employment a test run before turning it into a long-term proposition.
What Are The Benefits Of Temp To Hire?
Before your job turns into a permanent placement situation, you get a chance to see if the company has the kind of career advancement and working environment that you are looking for. The company also gets a chance to see if your attitude and work ethic are compatible with its needs.
You can look at a temp to hire scenario as the equivalent of a test drive when you are shopping for a car. Before you commit to the purchase, you get a chance to kick the tires and see if the car fits your needs. If you like what you see, you can express interest in a long-term arrangement.
Expand Your Networking With Temp To Hire
One of the most significant advantages to this arrangement is it allows you to connect with a variety of corporate contacts that can assist you in eventually finding permanent placement employment with a company you seek to work for. A temp to hire position gives you the chance to present your skills to a wide variety of business professionals, so this particular form of networking will ultimately work in your favor.
If you are looking for the perfect job, you will need to experience many different types of work settings first. The optimum way to achieve this goal is to contact an employment agency and make yourself available for a temp to hire opportunity. When you find a position that fits your needs perfectly and you have an employer who feels the same way, you can then discuss permanent placement and the next step in your career.