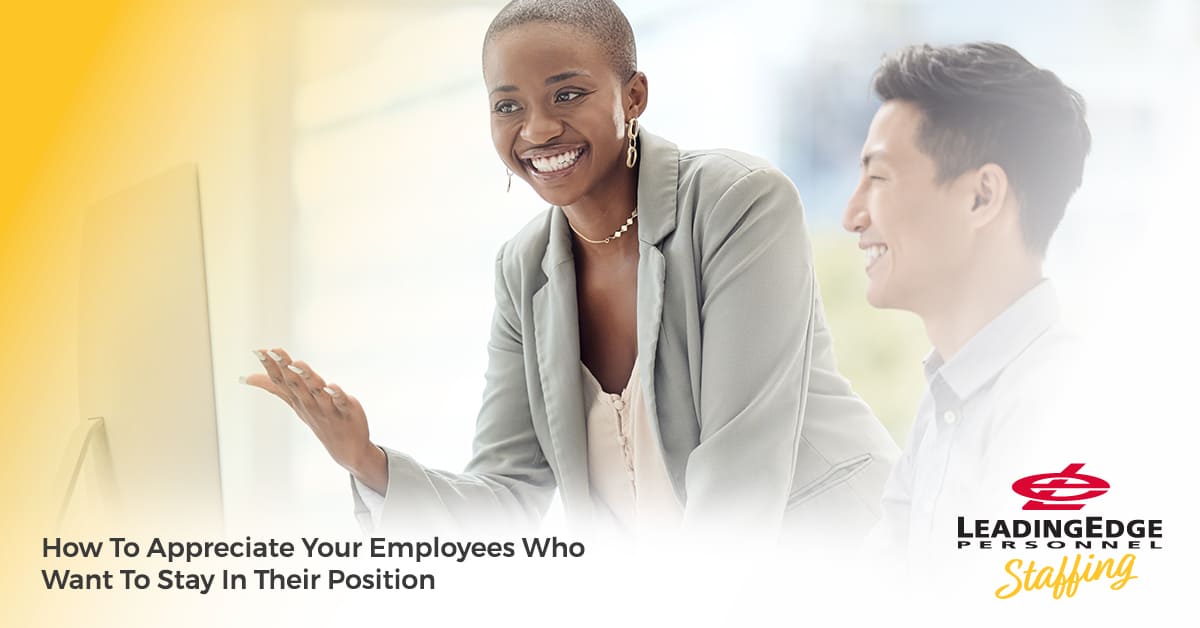 23 Aug

How To Appreciate Your Employees Who Want To Stay In Their Position

A loyal employee is a valuable thing. They provide institutional knowledge, dependability and a guiding light for others on their team who might be going through a rough patch. They can be strong leaders without being intimidating or as difficult to reach as a busy manager who's juggling multiple assignments. 

As a manager, it's incumbent upon you to show those employees who are happy and confident in their jobs just how much you appreciate them, their dedication and commitment. Whether they've been with the company five years or five decades, saying thank you is always welcome and a great way to inspire others that they can work for your company and be appreciated. 

Here are a few ways to show that appreciation for your dedicated team members. 
Pay them more.

This might be the most obvious way, but it's worth repeating. Even the most loyal worker might be tempted by the lure of a bigger paycheck from time to time. If you can't add to their salary permanently, implement a bonus system to reward people if they hit certain marks or quotas, depending on your industry, to thank them for doing a stellar job and playing such a key role in the company's success. If you really want to make them happy and go a little over the top, offer a raise unprompted, outside of the normal review and cost of living pay adjustment cycle. You'll give them a happy surprise in addition to the pay bump. 
Create a kudos system for sharing praise.

You know that, as a manager, you're often pulled in different directions. You might not be fully aware of what's happening on a daily level among your team, but they know. They know who's always willing to raise a hand and help out, who's the first person to step up to take tasks off someone's plate or offer a word of advice during a problem. Let your team celebrate each other! Create a method for giving people credit and a public thanks for their hard work and being the bright spot in someone's day. This generates a lot of goodwill and improves morale in addition to lifting people's spirits. Plus, it will demonstrate to newer employees that this is a company that wants to shine a light on those who go above and beyond, that their dedication and hard work will not go unnoticed. 
Bring out the baked goods.

Very few people will turn down free food. Whether it's a company picnic, a monthly birthday celebration, a tray of pastries "just because" or a cookie decorating contest around a holiday, find ways to feed your employees and give them a little break in the routine of their day. It doesn't need to be fancy — you can even make it a potluck if it's something your company wants to do on a regular basis — but free food offers people a chance to take a break and share some time and break bread together while stepping away from their desks. A word to the wise: Be sure to note any dietary restrictions, allergies, etc. before placing an order. 
Take it public.

Social media might be viewed by some of your employees as a necessary evil, a way to talk about the company's products or services and maybe help find new job candidates when there's an open position. But you're forgetting that you can use social media for fun as well! If you have an employee appreciation day or event, be sure to tell that story online as well. Share photos — with permission — of your team enjoying themselves, working together and playing together, or call out the people who have done so much to help others. Tell the world about the great people you have working for you and why you're so thankful to have them on your team. (This is also a strong recruitment move, as it shows that your company wants to call out the successes of its employees and celebrate them.) 

Help them care for their health.

In the past few years we've talked more about health, wellness and the importance of a strong work-life balance than ever before. Show that your company means it and wants to be proactive about taking care of employees not just by offering health insurances as part of their benefits package but by offering wellness activities. It could be starting a walking or jogging club at work with the goal of participating in a fitness challenge together in the summer; it could be bringing in someone to teach a few yoga or meditation sessions. Talk to your team about what they'd like to do and see how you can make it happen. Other options include bringing in massage therapists every so often to help ease stress and muscle soreness from sitting at their desks (and the stress of life in general). 
People who feel appreciated are less likely to look for new job opportunities. Some people are motivated by stability alone; others want to be appreciated and thanked (in public or private) for their efforts. A little can go so far toward fostering loyalty and dedication among employees! 
If you're looking for other ideas on how to thank your employees, or if you're looking to add to your team, call LeadingEdge Personnel. Our recruiters can help provide great candidates who could add so much to your team and who are ready to get to work right away. Call LeadingEdge Personnel today and let's get to work!