22 Oct

How Do Recruiting Agencies Work?
How Do Recruiting Agencies Work?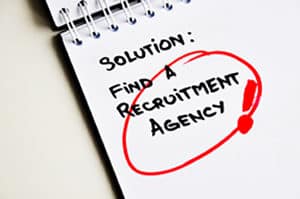 Recruiting agencies are becoming one of the most popular ways to help fill staffing needs and gaps. Some estimates say that 2 million jobs are filled by agencies every single day. That is a large chunk of the workforce. In San Antonio and Austin, the job market is tough, and it's tough to find good talent. That's how a job staffing agency can help you. Here is a quick guide to how these agencies work, and how they can help you meet your staffing requirements.
What are Recruiting Agencies?
A recruiting agency, or a job staffing agency, is a company that can help you with your hiring process. They work for employers to help fill positions, and with workers to help them find positions. The people who work at recruiting agencies keep themselves up to date on the hiring needs of the industries in which they specialize, and the good ones have a solid roster of talent ready to go. They understand the labor market and are great at solving staffing issues quickly and with good candidates. By working with an agency, you not only get access to good talent but also the expertise and connections of the recruiters.
Do All Agencies Function the Same?
There are several recruiting agencies from which to choose in Austin and San Antonio. They may operate similarly, but they are not the same. Some agencies specialize in a specific industry, while others are more general. If your industry is skill-intensive, then a job staffing agency that specializes in that skill may be the most helpful for you. It will guarantee that you will have access to talent that has the skills you are looking for. When it comes to administrative skills, from legal to medical, LeadingEdge Personnel can help you find the perfect candidate to add to your team. There are even firms who only handle executive staffing, so their candidates will be people who are looking for higher-level jobs. Some agencies also only deal with temporary staffing or contract staffing.
How Do These Agencies Work?
If a company uses a job staffing agency, it will pay for the agency to search for suitable candidates, provide them with the information they need to work the job, and help them get up to speed on the interview and hiring process. For the candidate, they do not have to pay anything. The employer is who funds everything. In return, they receive a quality candidate without having to spend the time and effort to recruit and interview. This will help protect productivity and reduce the risk of hiring the wrong person. An agency is invested in the success of the candidate, so you can be sure that they will provide a great one.
As an employer, the process might seem unusual and perhaps overwhelming. However, it doesn't have to be. There are many benefits to working with an agency. This includes getting a great candidate that comes ready to go with the skills you need. Many agencies also provide training ahead of time, so you can have someone working immediately with only a little bit of orientation needed. So in the end, recruiting agencies can provide employers with the best quality candidates at a fraction of the time spent, all while having some cost certainty over the process. It is a win-win situation.
For more information about San Antonio and Austin recruiting agencies, how they operate and how they can help you find the right candidate for your open position, visit https://www.leadingedgepersonnel.com