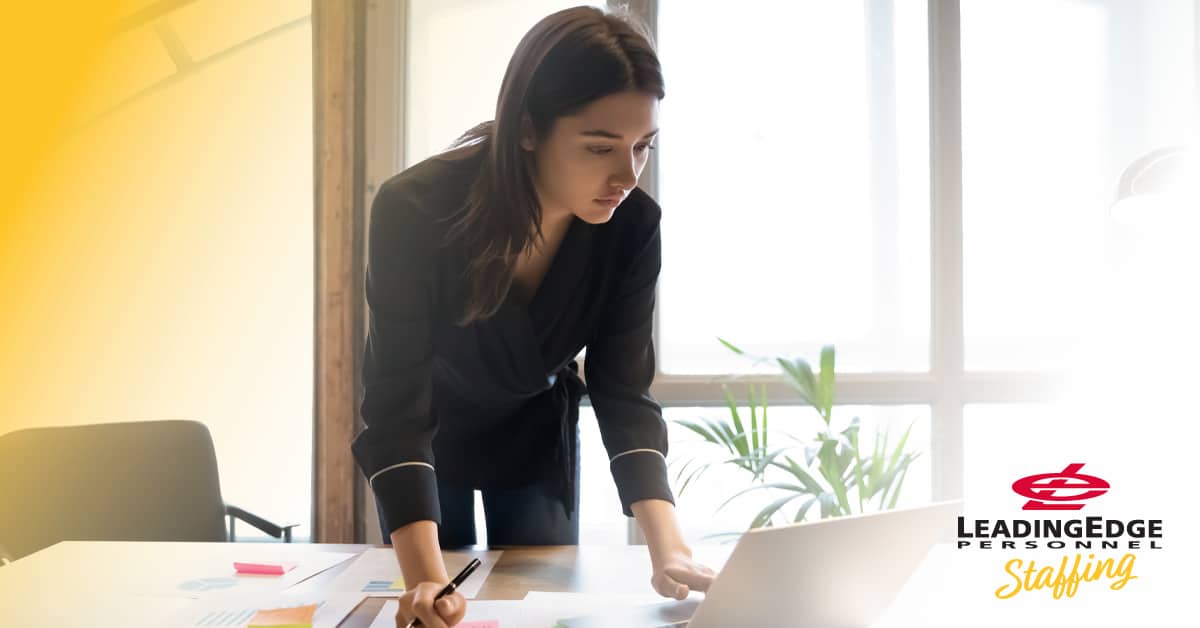 19 Dec

Everything Job Seekers Should Know About Temporary Jobs

Temporary jobs have a long list of benefits. From being able to fill gaps in your resume to more flexibility so you can pursue things such as school to picking up new skills, there are many reasons one may consider a temporary job. With the current employee shortage, companies are more than eager to hire temporary workers to help them quickly fill their empty roles, which means it's a great time to be an employee looking for a job.

If you're looking for a temporary job or trying to decide if it's the right career choice for your long-term goals, we're breaking down everything you need to know to help you make a well-informed decision that you'll feel confident with.
What Are Temporary Jobs?
Temporary jobs are exactly what they sound like–jobs from employers that only need an employee for a limited amount of time. This means when a temporary employee begins working, they will likely have a beginning and end date. According to the Department of Labor, temporary work can only last up to a year. Most of the jobs you will come across typically only last weeks or a couple of months.
If you're familiar with seasonal work, you may feel that this temporary work is extremely similar. And while you are correct, temporary jobs are usually available year-round rather than during a specific season (i.e., the holidays or summer). Examples of temporary work include servers, retail workers, receptionists, and cashiers.
Some companies may choose to hire temporary employees because they simply don't need the work done full-time, while others may opt for temporary work during rough economic times to help save them a little money. It's also wise to keep in mind that the start and end dates are flexible, so they be extended or shortened. If you're uncomfortable with this uncertainty, a temporary job may not be the right career move for you.
The Benefits Of Temporary Jobs
Now that you know what a temporary job is, you may want to know why it's something that you should consider. Is there a catch? What are the benefits?
Temporary Jobs Allow You To Get To Work Quickly
Although temporary jobs may not necessarily be your ideal role, they do allow you to get to work while you wait for your dream position to open up. This means that you don't have to struggle with a gap in your resume when you're job hunting, which can be frowned upon by some employers. It also means that you can get to work quickly so you can make the money you need sooner.
Gain Experience With Temp Jobs in New Industries
If there is a field that you have been interested in but you don't have any experience in, and you're unsure whether or not it's the right fit for you, a temporary job may be the perfect solution. It allows you to test out an industry without feeling like you're stuck. Not to mention you may just meet the right people to help you network and advance in your career if you do end up loving it. And many temporary jobs do lead to full-time jobs.
Build Your Resume
If you're just starting out with your career and you want to perfect and learn skills and build your resume, a temporary job can help. This is also extremely helpful if you want to make an extreme career shift. And let's face it, everyone could benefit from more experience in a field, a longer list of trustworthy references, and the strengthening of skills. Building your resume only makes finding a more permanent position easier for you in the future.
Temping Provides Flexibility
Though this isn't always the case, many temporary jobs are part-time. This gives you the time to work on other things–whether that be your true passion, taking online courses to further your knowledge, going to school, picking up a new hobby, or networking with other professionals. We know that flexibility in schedules is becoming increasingly important for many job seekers, so if this is something that's important to you, you may thoroughly enjoy a temporary position.
Temping also provides flexibility in where you work. If you have never worked from home before but believe that remote work is the best fit for you, this is the chance to find out. The same goes for working in an office, warehouse, etc. It buys you time to decide where you want to work, if you want to relocate, if you should go back to school, and more. And if there's anything that everyone wants, it's a little more time when making drastic life decisions.
Temporary Jobs Are A Great Networking Tool
As we mentioned earlier, temporary jobs are great for meeting new people and networking with other professionals who can help you advance in your career. Whether they help you get a new job once your temporary position is over or they act as references for your future job applications, having this network can be extremely valuable in the long run.
Who Should Consider Temporary Jobs?
People Who Are New To a City
Moving to a new city is never easy–especially if you're moving without a job lined up. If you're in a hurry to get a job to help pay your bills or you're looking for a way to meet new people in your new hometown, a temp job may be the perfect option.
Parents Returning to the Workforce
If you've been out of the workforce for some time because of children, you may find it difficult to re-enter. This is especially true if it's been for an extended period of time. To get your feet wet in the working world again, you may want to try out a temporary job. Not only will these allow you to test the waters of working again, but it also gives you the freedom you may want so you can continue to spend time with your kids.
Career Changers
Changing careers can be extremely daunting. If you don't have any experience within a field, you may feel like you're getting in over your head. But that's why temporary jobs are so beneficial. You can be a beginner without the pressure that you may experience in a regular full-time job. Not to mention that if you find that it's not what you expected it to be, it's not a permanent position.
Anyone Looking To Build Skills
Career changes and building skills go hand-in-hand. Whether you're looking to build skills within the field that you are already in, in order to advance in your career, or you want to learn new skills in an industry that you're not all that familiar with, a temporary job is the place to do so.
How Can You Find Great Temporary Jobs?
While you could spend hours upon hours searching job boards high and low, trying to find the perfect temporary job, we know that no one has time for that. And you shouldn't have to spend all of your free time just trying to search for a job. That's why we recommend using an expert temporary job staffing agency like LeadingEdge Personnel.
Find Your Next Temp Job With LeadingEdge Personnel
We want to make your job as easy as possible. And we're firm believers that you shouldn't settle for a job that you don't want. That means not having to scour the internet day in and day out for jobs. That's why we've rounded up temporary jobs in one place to help you take the next step in your career. To find the perfect temporary job for you, check out our job board and browse all available positions today!