23 Feb

When Business Booms A Temporary Employment Agency Answers the Call
When Business Booms A Temporary Employment Agency Answers the Call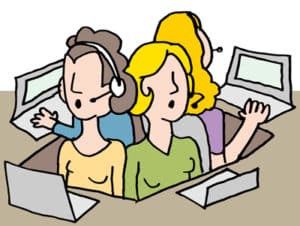 Your business has been comfortable with its staffing levels for several years. It operates like a finely tuned machine. Times are changing, however. Your workers are more overwhelmed than ever each day. Hiring more people is the simple answer. There's no time to perform the necessary interviews so you turn to staffing professionals. When your business is booming, turn to a temporary employment agency to improve your productivity. The partnership benefits almost every industry.
Work With a Single Representative
Job placement agencies don't make the hiring process complicated. In fact, you end up with a partner for life. The agency assigns you one representative. This person remains your sole point of contact throughout your relationship. He or she gets to know your company on an intimate level.
Although there's always backup help if necessary, you don't ever deal with a huge group of people. Your instructions and details remain clear with your temporary employment agency representative. Start your hiring process with your agent. He or she will call up the right applicants for your needs.
Explore Your Options
When business booms, you may have unusual hours to cover. It's not unheard of to have second and third shifts within your industry. Go over your specific needs with the agent. A temporary employment agency usually has a host of people who're happy to work outside of the standard 9-to-5.
Offer flex scheduling to prospective applicants too. Being perceived as a thoughtful employer also boosts the application rates. You'll have people applying for the job that is above and beyond your qualifications. Austin applicants might work full- or part-time hours. Varying shifts that cover your industry's needs is one of the best ways to support your growing company.
Be Specific About Niches
Don't be shy about asking for certain skills. Your industry is booming for a reason. Job placement agencies can be just as picky as your HR department. Offer a list of qualifications that must be in an applicant's background. You might also list a few items that are desired but not necessarily required.
From accounting to medical-billing qualifications, make your list clear and concise. The agent takes that information and applies it to the search. In many cases, they have certain applicants in mind as they quickly call their prospective interviewees.
Let the Temporary Employment Agency Take Over
You want the right people hired for your busy office. It makes sense that you'd be involved at every turn. However, allow the job placement agencies to do their work. With your information in hand, they start the interviewing process. You'll only meet the very best applicants out of the group. It may be difficult to choose who you want to hire at that point.
Hire one or more people as you see fit. Your company may benefit from several people spaced out over multiple shifts. Try different arrangements until your booming business has caught up with every task.
Reevaluating the Experience
After several weeks, evaluate your temp workers. Hold informal meetings about their progress. Invite the agent to keep him or her in the loop. Your temp worker will eventually return to the agency. Take a moment to evaluate their effectiveness in the office. Depending on your needs, you might hire the temp worker again in the future.
When you're in need of a San Antonio or Austin temporary employment agency, LeadingEdge Personnel is your go-to choice. From medical staff to administrative professionals, quality workers for both temp and permanent positions are ready to tackle your projects. Get your business moving once again with help from dedicated professionals who care about your industry.
For more information about how a temporary employment agency in San Antonio or Austin can help you get your business workload caught up by using temp employees, visit https://www.leadingedgepersonnel.com