Understand the Difference Between Direct Hire, Temp-Hire, and Contract to Hire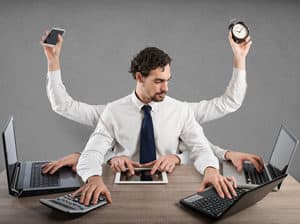 Businesses work best when they are flexible. Sometimes there are ups, and sometimes there are downs. Staffing often must respond to these ebbs and flows, otherwise, you can be running things inefficiently. Employment agencies can help keep a business running smoothly, even when going through a busy patch. There are a few options, such as direct hire, contract to hire, and temp-hire. There are some differences between those options and each has their benefits and drawbacks. Here is a quick guide to all three.
Contract to Hire
We'll start with the contract to hire, which in a sense is a mixture of the other two options. The employer will hire a candidate for a predetermined amount of time. The employer should provide the candidate and the agency a detailed outline of how the contract will work. This should include not just the length of time, but also what evaluation criteria will be used while the candidate is working. At the end of the contract, if the candidate has done well, then they can be hired on permanently. This allows the business to have a long evaluation period while not being responsible for paying the employee directly during the contract period. That way, if things don't work out, separation is simple. There is little risk. However, the company will have to train a new candidate, and then train another if the next one doesn't work out.
Direct Hire
In a direct hire scenario, candidates are sourced through employment agencies, but they are hired on as a permanent employee right away. This means that the employee is given benefits and remuneration from the company just like any other staff member. This type of hire through employment agencies can take longer than the others. The employer will want to take their time evaluating since they are bringing someone on full time. This option is potentially costlier, and there is some risk. If an employee doesn't work out, then the company will be back at square one. It means there is less flexibility since the company is paying the salary and benefits.  Essentially it is like a traditional hiring process, except the company doesn't have to spend time and resources recruiting. The agency provides the candidates and does most of the legwork.
Temp-Hire
A temp-hire is probably the most flexible option of them all. Temp hiring is valuable for when a company has staffing needs for a shorter period. This could be if there are seasonal peaks or to cover for an illness or leave of absence, for instance. The staffing agency pays the employee in this case. A placement can be for just a few hours if needed. It can be much more cost effective to hire a temp than to recruit and interview candidates. There can be issues related to training and experience in these cases, but it depends on the type of work being done. If the agency provides experienced and skilled candidates, then there should be no issues.
There are many options when you use an agency for your staffing needs. Direct hire, contract to hire, and temp-hire all provide pros and cons depending on your situation. Contact Leading Edge to discuss how they can help keep your business flexible.