04 Jan

Temp Agencies Explain the Advantage of Hiring Quality Temp Workers
Temp Agencies Explain the Advantage of Hiring Quality Temp Workers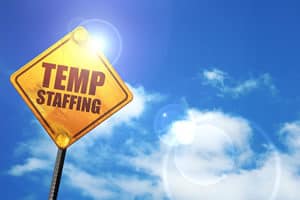 Bringing on new staff members is a tough task for any San Antonio or Austin business owner. You need to make sure that you always have the ideal number of employees to balance productivity and profit. This can make it hard when you need someone short term or for seasonal work. That's where temp agencies come in. They can help solve any logistical issues with staffing and provide you with quality workers who can help you succeed. They offer many options, such as temp to hire staffing, so you can be flexible and efficient with your staffing budget. There are other benefits as well, especially if you hire quality workers through a temp agency. Here are some of those benefits.
Less Overtime for Regular Staff
Being short-staffed puts a strain on everyone. It may mean that you have to ask your regular staff to work extra hours in order to get things done. This can cost you a lot of money if you are paying out overtime wages on a regular basis. Hiring some solid temp workers allows you to be more flexible with your scheduling and means that you don't have to pay time and a half or more to make sure nothing is missed. Covering shifts for employees that are out of the office no longer has to be a budget buster.
Temp Agencies Help Fill Spots Faster
Hiring new employees takes time. You have to come up with an enticing job advertisement, then go through the submitted resumes and interview candidates. Then, you have to hope that the one you hire will be a good fit and work out with the company. If you have a staffing need on short notice, this can be disastrous. When employees leave suddenly or get sick, you don't want to be left in the lurch. Temp agencies can provide quality workers at a moment's notice, so you can keep things moving. They can also offer options like temp to hire staffing so that you can try someone out to see if they are a good fit before hiring them on full time.
Adjust to Additional Demands Quickly
It can be a blessing and a curse for demand to rise suddenly. If business starts booming, then you may be left short-staffed. Again, this may cause you to have to start paying out over time You certainly don't want to lose productivity when things start rolling, so hiring from a temp agency will allow you to keep up with demand. Then, if demand slows down, you can return to your normal staffing levels. That way, you won't have extra staff sitting around when things slow back down.
Replace Bad Hires
Even the best management teams make mistakes. Sometimes, those mistakes happen during the hiring process. There are times when someone has a solid resume and has a great interview, but for whatever reason, they are not appropriate for the job. It could be that they aren't a good fit with the team, or that they may have exaggerated their qualifications in the first place. If that happens, it can leave you high and dry. To avoid this, you can use temp to hire staffing through an agency to try someone else before hiring them on. It protects you from making a mistake in hiring.
Temp agencies provide many benefits that can help your San Antonio or Austin business be successful. You can be more flexible and even save money by working with quality temporary workers.
For more information about San Antonio and Austin temp agencies and how their process of qualifying great temp workers for your company, visit https://www.leadingedgepersonnel.com