21 Nov

The Perks of Employment Services for Job Seekers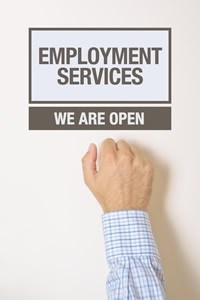 Job seekers who search the Internet each day for positions are missing out on practical solutions found through temp to hire staffing agencies. When applicants are competing with other San Antonio residents for that perfect job, success may be difficult to find. However, almost instant rewards are possible when staffing professionals back up the applicants' skills with potential employers. There are numerous perks to working with employment services as a job seeker.
Interviewing Practice with Employment Services Professionals
One of the main perks that applicants experience when working with job placement services is interviewing skills. Applicants may hold mock interviews with friends, but the real test is normally with an agency professional. They'll look over an applicant's appearance, body language and answered questions in order to ascertain the level of professionalism. Staffing services might suggest some changes after the interview, but the real critique is based on the offered jobs in the future. For example, you go to the agency with hopes of working in a receptionist position but end up being offered the opportunity of an executive-assistant position.
Almost Instant Work Assignments
Every industry has a unique ebb and flow when more or fewer applicants are needed at a given time. Based on an applicant's industry knowledge, a job position could be immediately offered after an agency interview when times are busy. Slower periods might require a waiting time of a few days or weeks. Ideally, applicants should diversify their resume so that a wider scope of jobs can be offered to each individual. In most cases, the agency has more connections to open positions compared to one applicant in a sea of competition.
Paychecks Through the Agency
When applicants are hired on by one company, the first paycheck might be delayed based on their particular payroll period. Working with an agency streamlines this process. Regardless of the current position, every paycheck will run through the agency. Applicants simply need to submit their working hours for approval. Some paychecks are received once a week, whereas others might be bimonthly. The paycheck simplicity allows applicants to try different jobs without switching employers in the traditional sense. As a result, fewer paycheck mistakes occur and accounting remains accurate for both the staffing agency and job seeker.
Temporary or Permanent Work Available
Job seekers have a lot of opportunities when it comes to working with agencies. Both temporary and permanent jobs are easily procured, and these positions can be sorted through as necessary. An applicant that was set on a permanent job may be interested in the idea of trying another position with a temporary stipulation. Applicants are allowed to explore certain industries with a bit more abandon because a change might be arriving in the form of a temporary transfer to another position.
Testing and Tutorials Enhance Skill Sets
Some applicants may be lacking in some skills, and this fact is reflected in an assessment test taken at the agency. Although a particular position may be given to another applicant, the test taker can use that information to bolster his or her skill sets. Tutorials for almost any field can be learned, studied and tested on with an agency. When an assessment is necessary again, the applicant will feel confident about the newly acquired skills.
Temp to hire staffing agencies work diligently with job seekers, and this dedication should be returned with constant communication. When applicants are on the job, they still need to check in with the employment services office at least once a week. Basic communication tells the agency that the applicant is pleased with the position while keeping the hiring client as happy as possible with the efficient work.