Inexperienced in Your Career Field of Interest? A Temp Agency Can Help You Get Your Foot in the Door.

Inexperienced in Your Career Field of Interest? A Temp Agency Can Help You Get Your Foot in the Door.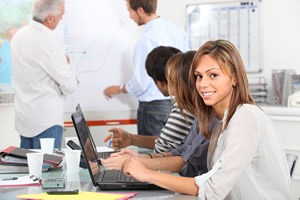 Students in San Antonio attending college and other educational institutions today are less likely than ever to specialize in a particular field. Employers are more likely than ever to desire specialization from employees. This means you may graduate from a higher institution of learning without obtaining the skill set that can get you employed. If you do not have previous experience in the career field you seek to work in, it may take some time to obtain the job you are looking for.
A temp agency, which is a specific type of agency within the industry of job placement agencies, can get you the experience you need with top employers. Here are a few advantages of enlisting assistance from a temp agency.
Building Relationships
Job placement agencies already have relationships with top employers in your field. Rather than waiting months to meet with an executive in your industry, by working with a temp agency, you could be getting paid to work for this person within the week. By first working for a company, employers will be able to see your skill set firsthand rather than listening to you explain why you should be given an opportunity.
Enhancing Your Resume
Working with a temp agency will also help you to enhance your resume for the full-time position you seek. This is especially important if you were not able to get a relevant internship during your time as a student. You will be able to build contacts within your industry and provide experience many other employers in your career field will find interesting. If you perform well in positions that job placement agencies help you find, you may be offered a job directly.
Get Connected
Top employers often use a job placement agency as a place to discover new talent. A job placement agency may be the only way to take advantage of some job opportunities. It is not uncommon for a top employer to partner with a job placement agency, rotating out different people and testing them in a position rather than placing a listing for the position to the general public. It behooves you to ask a temporary agency if this service has been provided for anyone in the past. You can also get a list of the companies an agency partnered with in this manner.