22 Mar

Finding an Office Job in a Competitive Industry

Finding an Office Job in a Competitive Industry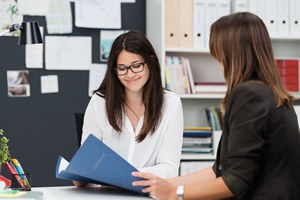 Office work will always be a necessity among businesses because administrative duties allow a company to function each day. If you want to work in a particular industry as an office worker, however, you'll face several challenges. Many candidates might apply for the position, which reduces your chances of advancement. Finding an office job is possible when you combine experience and staffing agency assistance into a successful career strategy.
Training on the Latest Software Platforms
Jobs are plentiful in San Antonio, but competition for each one is fierce. Make yourself a diamond to employers and office temp agencies by training on the latest software programs. When you understand the basics of various software applications and customer-service programs, you're a turnkey solution to a company's needs. Employers see you as a quick study so there's little training involved after the hire. Take classes at a local college or use the tutorials that are provided in most software applications for hands-on training. Add this information to your resume because it makes you more valuable.
Concentrating on Multi-tasking
A skill that's always needed in the office is multitasking. Be aware that you may not be exclusively filing or processing some type of paperwork. In many San Antonio businesses, you'll wear several hats. Answer phones, work the sales floor and help out with shipping as part of your administrative position. Take all of these tasks in stride because they'll only teach you more skills as time goes on. Employers and office temp agencies will be thrilled that you can perform other duties while greeting a customer walking in the door. Your value makes finding an office job easy at this point.
Finding an Office Job with Staffing Agencies
You might use online resources to find a job, but office temp agencies are better choices. These businesses take your information and match it to open positions. The work isn't always temporary either. It's possible to find a permanent position after being a temp worker for a short time period. Ideally, work with one staffing agency so that they can find a position within their contact base. When you remain loyal to one agency, it's possible to try several positions before settling on a permanent job that truly suits your needs.
Differentiating Yourself
Aside from taking classes on software platforms, you need to differentiate yourself in other ways. Create unique and productive strategies to file, invoice or process other paperwork. You might have experience in a certain field, such as material supplies. Use your strengths within that industry to help any employer who hires you on. Many skills transfer to other career choices so note every talent on your resume. Create several different resumes that correspond to various industries. Your staffing agency will see numerous employers asking for your help as a result.
Interviewing Like a Professional
Finding an administrative job requires a personable relationship with each employer. You become the voice and face of the business, especially if it includes a busy storefront. Learn to interview like a professional by simply practicing. Body language, word choice and other mannerisms should be perfected. You might practice at home, but also consider interactions with your staffing agency. These experts can pinpoint areas of strength and weakness. Refine your interviewing skills so that the next office job is practically yours to keep.
Work with office temp agencies on a regular basis in order to discover the insider positions that aren't advertised on mainstream outlets. That dream job can be yours with a little networking and professionalism mixed together. Finding an office job takes some skill to narrow down the best position for your skills.