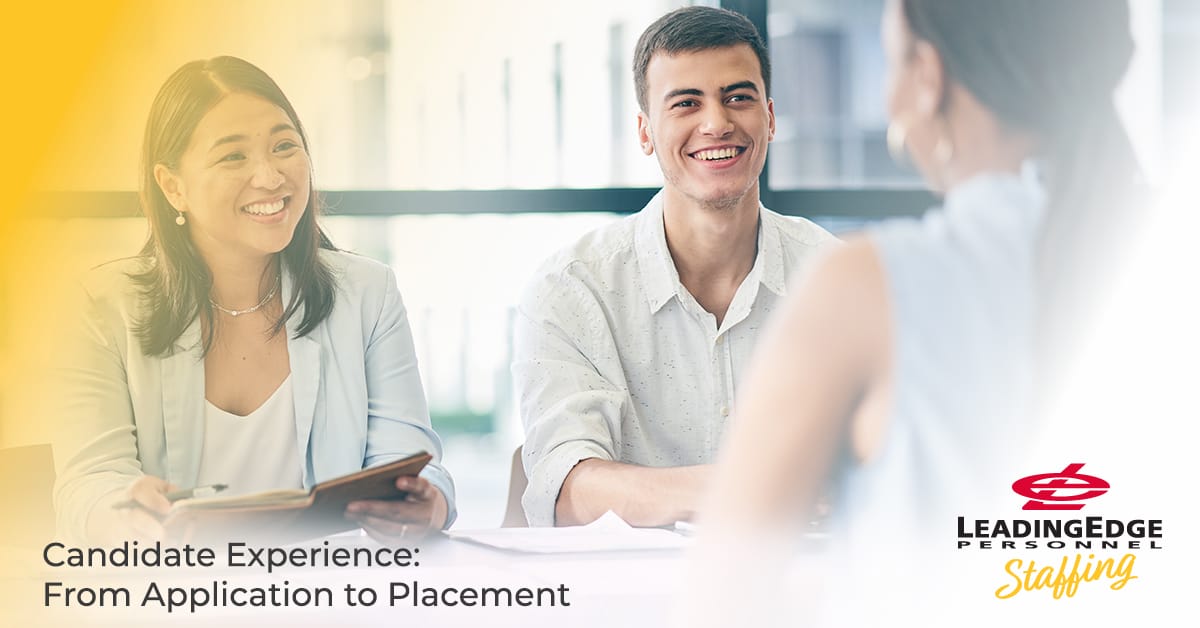 18 Oct

Candidate Experience: From Application to Placement

Think back to the last time you applied for a job. It's likely been years since you were on the other side of the application process and, to put it mildly, things have changed! 

What's it like to be a job applicant today? For many people, it's a stressful process with more silence than responses, a series of repetitive activities and so much waiting it's possible they've forgotten which position they applied to by the time they receive a response. Keep in mind that a bad candidate experience, the process a person has in applying for a job, might ruin that person's relationship with your company as a whole — and people who are upset with a company will tell their friends both in person and on social media. That means it can hurt your reputation with potential customers and candidates alike.

The candidate experience can make or break their interest in your company. But there's plenty that can be done to improve it and make it a beneficial and even pleasant series of interactions. 

A few tips to improve your candidate experience: 
Make sure there's a real need before posting a job.

Do you know all that your company needs and whether your current employees can fill those needs? If you open a job position only to find, mid-process, that people who already work for you can handle those needs, you've wasted not just the time of the applicants who have submitted resumes, you've wasted the time of the people who were tasked with reviewing them and scheduling interviews. Start internally first; then open positions to fill actual needs. 
The job description should be an accurate snapshot of the position.

Before writing the position, after confirming it's one that needs to be filled, talk to your employees who work on the same team you're looking to expand. Find out what tasks the new person will be taking on and what skills they'll need to have. What background experience would be the most beneficial to the team and what kind of training is most applicable? The job description needs to portray, honestly and accurately, what the candidate will need to know to consider applying. Inaccurate job descriptions can make a new hire feel duped or misled, creating yet another opening and putting them back on the job market while your team is once again shorthanded. 
Make the application process easy — and not repetitive.

One of the top complaints among job seekers is that they have to upload their resume and then, on the next screen, fill out what amounts to be another resume. This is a waste of time and could lead some applicants to exit the screen and not come back. Instead, make the process seamless. If you require the applicant to upload their resume, on the next screen, begin to secure additional information about them. Additionally, make sure your careers page is easy to find and navigate and don't make applicants create an online profile to apply. That's a lot of work for people who might not be eligible for the job and what's the point of needing to remember one more password? Be sure to tell people what information they'll need to provide at the top of the page and, if possible, give them an estimated time it will take to complete the steps. The easier and smoother the process, the better! Also, automate a response to let the candidate know their application was submitted. Many job seekers keep track of where they've applied and they don't want to wonder if that job they really had their eye on is reviewing their application or if they did something wrong. On that same note…
Communicate!

The resume review process is time consuming. No applicant expects to hear immediately whether they'll be invited for an interview or that their application is rejected, but a month after hitting "submit" is far too long. Keeping your applicants in the loop, letting them know that their resume has been reviewed and either they're moving on or they're not the right fit at this time, is a good idea. So often candidates never hear from the company they've applied to; if that happens too many times they will wipe your company's name off their list and then they'll tell their friends that your company doesn't respond to people. That's a bad look and could cost you other qualified candidates. Automated emails are fine; personalized emails are better. If you've interviewed several candidates for a position and are in the process of making an offer, let the other candidates you interviewed know that the decision is in the end stages. Let them know if someone else was selected. They deserve to know you've moved on. 
During the interview process, provide some details.

When setting up an interview, let the candidate know who they'll be talking to, including the person's name, title and, if they're meeting with multiple people in a day, how much time each one will receive. Let them know when to arrive, where to park and whether they need to bring anything (copies of their resume, writing samples, references, etc.) to ensure they're prepared and not left flustered with unexpected demands. 
Be present.

During the interview itself, give the candidate your full attention. No phone, no interruptions, no distractions. They've done the work to get to this point and they deserve the entirety of the time you've allotted for them. It's a sign of respect and a great way to not only make a good first impression to them, it's a good way for you to really see and learn more about the applicant. 
Candidates are likely applying for many jobs at once. They're doing their best to find gainful employment in a position they'll enjoy, one that will help provide a nice life for them (and possibly their family). If someone isn't a good fit, let them know quickly so they can have the closure they need while moving forward with other opportunities. The more respect and decency you can show candidates throughout the application and interviewing process, the more respect they'll have for your company. 
If you're looking for more advice on how to speed your application process, or need to fill a position quickly, call LeadingEdge Personnel. We can help manage the whole process, from posting and optimizing an open position to reviewing applications, conducting initial interviews and skills assessments; we can also provide information on candidates we work with who might be a great fit for your company. All it takes to get started is one phone call — what are you waiting for? Call LeadingEdge today!