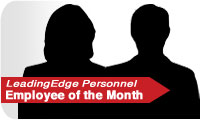 24 May

A Temporary Employment Agency that Rewards the Best
Leading the Way With a Great Work Experience
LeadingEdge Personnel is a temporary employment agency that is home to the top office, clerical and administrative talent in San Antonio and Austin. If you are looking for an outstanding temporary assignment—or the opportunity for a direct hire placement—LeadingEdge Personnel wants to get to know you.
We Offer Significant Benefits and Great Employers
Our staffing services include temporary staffing, temp-to-hire, and direct hire positions. Whether you have clerical, accounting, bookkeeping, customer service, call center, or the type of administrative skills needed in medical office settings, we can represent you to find the best position for your skills and preferences. Our temporary employees enjoy:
Two great payday options—Direct Deposit or Global Cash Card. Payment at the end of every assignment or every Friday, whichever comes first.
Referral rewards—Earn gift cards for gas, shopping, restaurants, etc. when you refer an employee or client.
Free training—Improve your marketability by learning the latest office software applications.
Health Insurance—Independent health insurance coverage information available in the branch. This is not sponsored by LeadingEdge Personnel.
Paid holidays—New Year's Day, Independence Day, Thanksgiving Day, Memorial Day, Labor Day and Christmas Day.
Longevity Bonuses.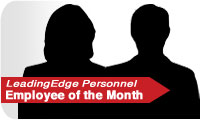 Please click the link below and complete the application form, providing all the requested information. If you are applying for multiple positions, you only need to submit one application.