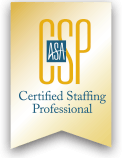 31 Oct

A Hire Level of Service and Commitment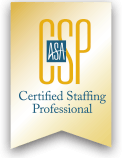 At LeadingEdge Personnel we thrive on excellence through personal development and continuing improvement through education. We are proud that every in-house team member holds the designation of Certified Staffing Professional by the American Staffing Association. This certification shows our compliance and knowledge of the most current federal and state labor laws and ethical practices as they pertain to the relationship between LeadingEdge Personnel, our client companies and our temporary employees.
We Believe in Better!
Our Certified Staffing Professional designation insures that we abide by the best-practices and compliance in pre-employment, immigration, wage and hour laws, and a host of other staffing topics, while adhering to the code of ethics of the American Staffing Association.
Staying on top of important and ever changing employment issues is just one more reason that LeadingEdge Personnel is your most reliable choice when it comes to choosing a staffing partner with accountability to your total satisfaction. We believe in better!
To learn more, please explore our services and review the frequently asked questions.