3 Tips Employment Services Recommend When Job Hunting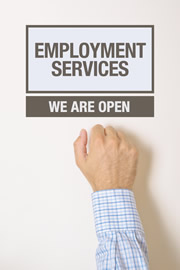 Finding a job in the modern world is more difficult than ever. Whether job seekers live in New York City or San Antonio, dozens of applicants could be applying for a single position. It's critical for applicants to be as prepared as possible when they look for that perfect job. In fact, top employment services actually recommend several tips when job hunting.
Customize That Resume
In the past, how to find an office job simply involved faxing or mailing a standard resume to dozens of potential employers. However, employment services don't recommend this strategy anymore. Employers might receive hundreds of resumes over the course of several weeks, for example. Each resume that applicants send out must be customized for that specific position to stand out from the pack. When employers encounter an applicant that has a background closely related to their industry, phone calls are sure to follow the resume's receipt.
Maximize Those Networking Contacts
It's true that many jobs are still found by simple word-of-mouth. In fact, they aren't even advertised to the general applicant pool because they're filled almost immediately. These job positions are often the most popular, so applicants must use their networking contacts to locate them. Ideally, job seekers should socialize with colleagues at lunches, dinners and even online. How to find an office job can be easily answered with a few conversations with the right people. In the end, one applicant could have four or five different interviews from basic networking processes.
Communicate Frequently with Employment Services
Job seeking as an individual is still a difficult pathway, so it's critical to work with an employment services agency as well. Sign up for office work through an agency and connect with networking contacts, for example. When applicants use multiple employment sources, their chances of being hired will rise substantially. Ideally, check in with an agency once a week to see if any new offers are available. These agencies often have the inside track to possible job leads before they're released to the public. Working with others will only improve career pathways.
Applicants may be flustered and wonder how to find an office job, but job seeking doesn't have to be a difficult process. Simply follow some basic preparation steps to maximize your chances for that brand new job. In the end, an applicant's personality and background will shine through to encourage multiple job offers in the near future.